A taxonomy of hip hop vocabulary
A data set of 26 million words by 500 artists reveals the unique differences and similarities that exist between rappers.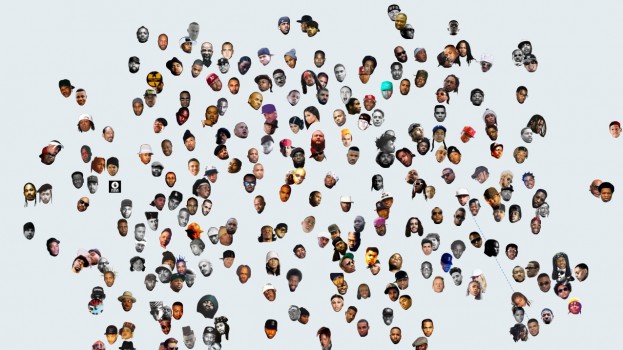 We all know Kanye says "yeezy" a lot. Also "bam." But perhaps more telling is his regular use of "embarrass."
Such are the findings from The Pudding's The Language of Hip Hop, which analyzed more than 26 million words from the top 500 artists on Billboard's Rap Chart to determine what's unique about the genre and its top artists, as well as what lyrical similarities exist.
For example, words central to Kendrick Lamar's lyrics include "vanity," "complicated," "poetic," "yams" and "Compton," which is also a top-10 word for N.W.A., Eazy-E and The Game.
Killer Mike's verbal arsenal includes "blam," "motherf…", "poverty" and "policy," while you're more likely to find the words "marching" and "repercussions" in Lauren Hill songs.
The analysis singled out words common in hip hop but not other genres, making for some interesting lists. The "least 'hip hop' words," for example (words commonly used in other genres but not in hip hop) are "sailed," "emptiness" and "sigh."
The "most 'hip hop' words" (commonly used in hip hop but not in other genres) are "chopper," "stunting" and "flexing."
Check out the full breakdown, which includes various charts and a map of lyrically similar artists as determined by their "central words" ranking, as well the methodology.