Whipped cream not even snobs can resist
Be mesmerized by society's elite filling their mouths right from the can.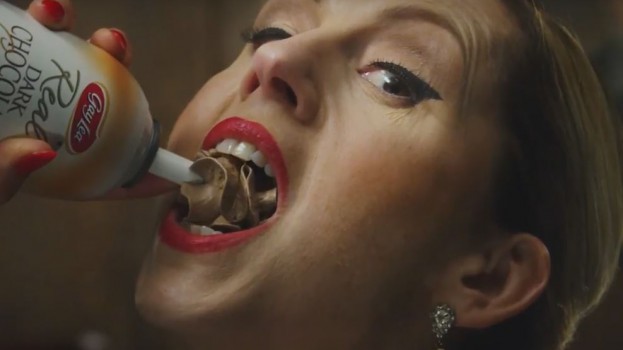 There's something disturbingly mesmerizing about watching haughty, sour-puss faced men and women stuff their mouths with dark chocolate-flavoured whipped cream, especially when viewed in slow motion.
That's pretty much all the gluttonous spots below, by Agency59 for Gay Lea Foods, do for us. They provide 15 glorious viewing seconds of whipped cream being ingested by society's snooty elite to demonstrate its cross-audience appeal, because, really, "Who can resist?"
A never-ending loop of these would do wonders for insomniacs.
Credits:
Brand: Gay Lea Foods
Agency: Agency59
CCO/CW: Brian Howlett
CD/AD: Andrew Gillingham
Account Supervisor: Gavin Ball
Director: Tom Feiler
Production Company: Kith and Kin, Toronto
DOP/Editor: Matthew Johnson
Producer: Kristina Anzlinger
Exec. Producer: Michi Lepik-Stahl
Music: Stock, Jingle Punks