The Van of all Vans
Van Houtte likens itself to the world's best Vans, from Gogh to Beethoven and even Damme.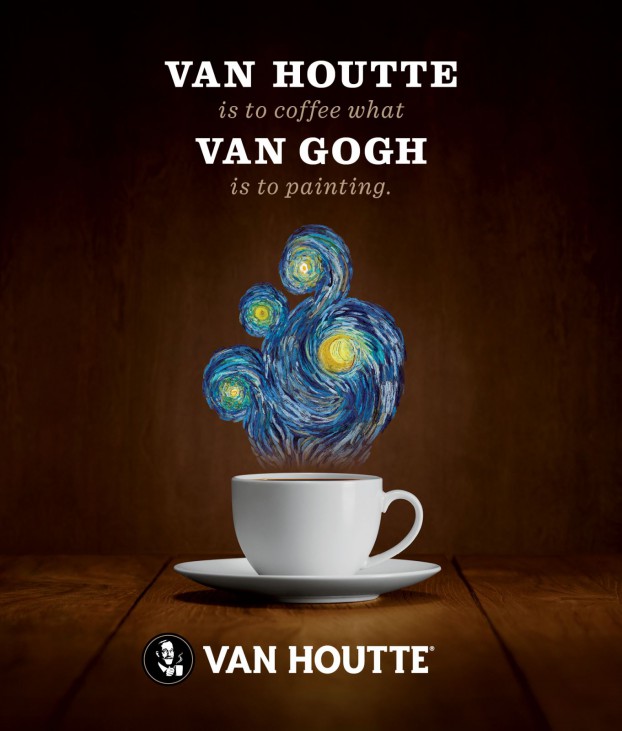 The art, music and film worlds have produced a number of creative geniuses that share the "Van" name. There's Van Gogh. Van Beethoven. Van Halen. And, yes, even Van Damme.
Now, after watching this new spot from Van Houtte, it would seem the world of coffee beans, filters and cups has one of its own, too.
The Keurig-owned brew is likening itself to history's masterminds with a campaign that states, ever so proudly, that "Van Houtte is to coffee what" the other Vans are to "painting," "symphonies" and, of course, the "split."
Its claim to have mastered the coffee brewing process just as Van Gogh conquered oil on canvas paint strokes (and so on), is being communicated in a TV/online spot, some static ads, POS material and outdoor creative, all developed by agency partner Sid Lee (in English and French). It's also in effort to mark the brand's 100 year anniversary, with Van Halen himself composing the guitar riff featured in the spot, according to Infopresse.
Credits
Brand: Keurig / Van Houtte
Marketing team: Caroline Losson, Stéphane Renauld, Anick Chartrand
Agency: Sid Lee
Vice-President, Consulting Services and Managing Partner: François Forget
Production: Johanne Pelland, Magali Loiselle
Strategy: Sarah Patier, Pauline Rosen
Creative Direction : Brian Gill
Copywriting: Maxime Paiement
Art Direction: Patrick Chaubet
Account Management: Sylvie Crête
Consulting Services: Meggie Lavoie
Digital Consulting: Florian Pichonneau
Media Strategy: Spark Foundry – Stacey Bermingham, Skaf Doha
Production: Mom Industries – Richard Ostiguy, Mathieu Leduc,
Director: Trevor Cornish
Photographer: Christian Tremblay
Photo Direction: André Turpin
Editing: Cag
Postproduction: Shed
Son: Cult Nation
Original Music: Cult Nation – Eddie Van Halen