Colonel Sanders on a plane serving coffee
KFC debuts a music video to convince the Chinese market that it's serious about its coffee business.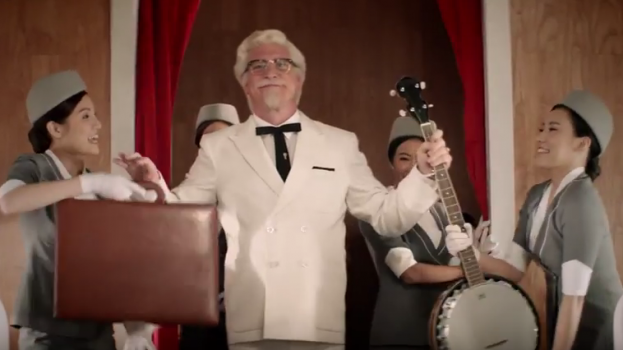 Colonel Sanders is a man of many talents. He can play the banjo, dance to bluegrass music, pilot a plane. He can even brew a mean cup of Joe.
That's the idea behind an Asian-market campaign video featuring the Colonel in China, celebrating the restaurant's foray into freshly ground coffee. When KFC began serving coffee in that market last year, the QSR had trouble convincing consumers that it takes its coffee business seriously.
So to celebrate the fast food chain's 30th anniversary, the Shanghai affiliate of Wieden + Kennedy developed a video spot – directed by Toronto-based Curtis Wehrfritz – featuring the Colonel dancing to a Kentucky bluegrass musical based on one of China's most recognizable folk songs.
As part of the campaign, W+K redesigned the company's coffee cups, did in-store takeovers, and created chicken-drumstick stirrers for the coffee. The campaign was supported by OOH advertising that showed the Colonel so occupied with coffee that his chickens were getting jealous.