Battling deadly assumptions
Pancreatic Cancer Canada posits the similarities between two phallic-shaped organs to make a point.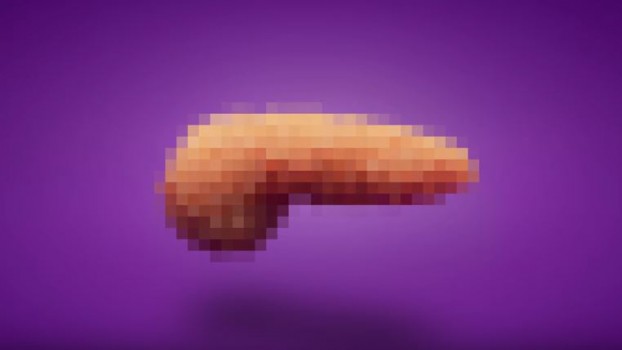 Assumption is the mother of all misdiagnosed cancers.
That back ache you feel, the nausea that plagues and the weight loss that suddenly happens should not be assumed to be the side-effects of a stressful life.
That's what Pancreatic Cancer Canada is trying to address with its new (and first-ever) campaign from The&Partnership, hitting home with a bold misdirect to prove a point.
A cheeky creative element of the campaign comes in the form of a floating pixelated pancreas in the spot below, with a woman describing the organ in a way that alludes to it being another similar looking phallic-shaped body part.
You wouldn't be blamed for making the assumption, but the organisation is hoping to convince people to think before making an assumption next time. The team has also created a website showing all the facts and bringing the emotional effects to the fore, with video interviews from those who have been affected by the disease.
"The national campaign is set to snap people out of potentially incorrect assumptions, because that's the only way to start saving lives," says James Sadler, deputy executive creative director at The&Partnership in Vancouver. The goal is to draw attention to the human impact of the disease and make a plea to help fund necessary research with a message of "now you know the facts, it's time to change the outcome," said Sadler.
Agency Credits

ECD: Ron Smrczek
Deputy ECD: James Sadler
ACD / Art Director: Jon MacArthur
ACD / Copywriter: Ed Malyon
Head Strategist: Elyse Finley
Agency Producer: Gabrielle Nicoletti
General Manager: Jack Shute
Account Director: Kaeda Cameron
Account Manager: Curtis Reid
Account Supervisor: Nicole Steward
Advertiser Credits

Executive Director: Michelle Capobianco / Pancreatic Cancer Canada
Events Manager: Courtney Joliffe / Pancreatic Cancer Canada
Office Manager & Executive Assistant: Jessica Stewart / Pancreatic Cancer Canada
Media Credits

Investment Director: Victoria Morris / m/SIX
Planning Director: Viki Alincy / m/SIX
Activation Director: Alexandra Cochran / m/SIX
PR Credits

Senior Account Director: Morgan Cates / Hill+Knowlton Strategies
Senior Consultant: Fiona Bang / Hill+Knowlton Strategies
Consultant: Kendra Stephenson / Hill+Knowlton Strategies
Creative Director: Matthew May / Hill+Knowlton Strategies
Art Director: Kelly Nelson / Hill+Knowlton Strategies
Copywriter: Evan Davies / Hill+Knowlton Strategies
Production Credits

Creative Director: Roger Harris / Murmur
Audio Engineer: Eric Mosher / Murmur
3D Artist & Animation: David Turfitt
Editor: Don Macdonell / PPM
Colour Grading: Randy Egan/ PPM
Online: PPM
Editor: Matthew Griffiths / Cycle Media
Compositor & additional animation: Peter DeBay/ Cycle Media
Videographer: Chad Jones / Union
Director of Photography: Dan Barham / Union
Sr. Project Manager: Katherina Metzger / Hogarth
Studio Director: Nando Gabrielle / Hogarth
Sr. Production Artist: Dwayne-Mark Aranha / Hogarth
Retoucher: Ian Pool / Hogarth
Social Media Credits
Director of Creative and Communications: Liane Coulahan / Nordest Studio
Account Director: Jonathan Pappo -/ Nordest Studio
Content & Community Leader: Kailah Bharath / Nordest Studio
Content & Design Coordinator: Nicole Soeiro / Nordest Studio
Web Production Credits
Head of Strategy & Operations: Mickey Jackman / Google
Strategy & Operations Manager: Zahra Kanji / Google
Head of Performance Advertising: Matthew Rivard / Google
Ad Solutions Engineer: Steve Herskovitz / Google
Account Manager: Matthew Sicoly / Google
Account Manager: Fareed Siddiqui / Google
Account Manager: Gordy Guay / Google
Export Consultant: Jyll Saskin Gales / Google
Developer: Darrin Patey