Audio streaming in the Upside Down
A subtle addition to Spotify's settings makes for a fun trip to a dark world.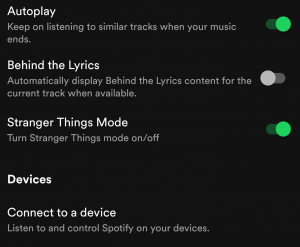 Just before Halloween, Spotify updated its mobile app with a small change in its settings menu: Stranger Things Mode.
Users wouldn't have noticed much as they navigated play lists and albums, but if they did choose to listen to the Stranger Things soundtrack, the display would flicker before listeners found themselves in a familiar, eerie place.
Fans of Netflix show (which debuted its second season on Oct. 27) would immediately recognize the floating ash and blackened display as the Upside Down, the dark mirror world to the bland suburb of Hawkins, Indiana where its young protagonists battle conspiracies and monsters alike.
A spokesperson from Spotify said there is no formal timetable for the execution, which the streaming service developed by working directly with Netflix. It's not the first time Spotify has worked with a broadcaster on a brand integration, as it worked with HBO last year on a Game of Thrones project.
After