Volkswagen snaps for safety
The auto brand's new campaign features safety selfies that used pedestrian detection technology.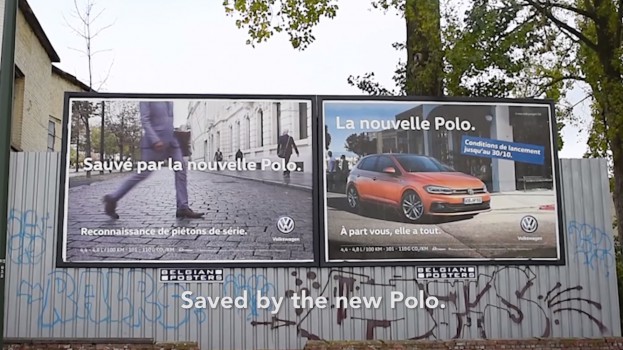 Normally, taking photographs while driving isn't associated with safety. But a new stunt campaign for Volkswagen by DDB Brussels shows a different take.
The new Volkswagen Polo launched in September 2017, and one of its most noteworthy features is a pedestrian recognition system, which causes the car to automatically brake when it senses a pedestrian within a certain distance of the car's hood. In order to communicate the impact of this feature, the Polo was equipped with a camera on the front-end, programmed to snap a shot every time the Polo's pedestrian recognition system engaged.
The resulting photos of pedestrians (mostly their legs) were then used as OOH ads in the streets throughout Belgium, along with the message "Saved by the new Polo." The stunt was also followed by a digital campaign.
Credits:
Advertiser: Volkswagen
Agency: DDB Brussells
Creative Director: Peter Ampe
Strategic Planner: Philippe Gerin
Production House: The Breakfast Club
Technical Production: Fish Eye
Camera rig: Fish Eye