A look inside the Design Agencies of the Year
What gave Leo Burnett, Rethink and Lg2 the advantage in the inaugural competition?
Printable websites, cook-able print ads, multilingual fridges and startlingly honest fundraising gifts were all on display at the recent Strategy Awards gala, where agencies vied for the first-ever Design Agency of the Year title.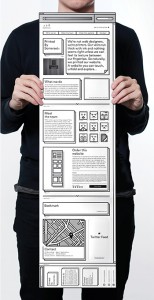 The case studies for each of the winning agencies are now online for those who want to nose through the work itself. But what's going on at the winning agencies that gave them the leg-up this year?
Leo Burnett won Gold with a relatively small in-house design team of six people under the guidance of Lisa Greenberg. After seven years with the agency, she's putting its utility-focused philosophies into practice for clients such as IKEA and Somerset Graphics (right).
The Silver-winning Rethink, meanwhile, is taking a social-first approach its design work, impressing judges with Molson's multicultural beer fridge and re-purposed scrap metal coasters for Arrive Alive's safe driving message.
And the Bronze-winning Lg2 (which was also named Agency of the Year) has undergone a rebranding but kept its design chops intact with outstanding work from its lg2boutique division.
Click the links above to get the inside story on strategy's Design Agency of the Year winners, with links to the winning case studies. For more on the the 2018 Agency of the Year winners, visit the competition's website.