Medium poutine, Double Double
Smoke's Poutinerie admits to 'trolling' Tim's in its latest campaign.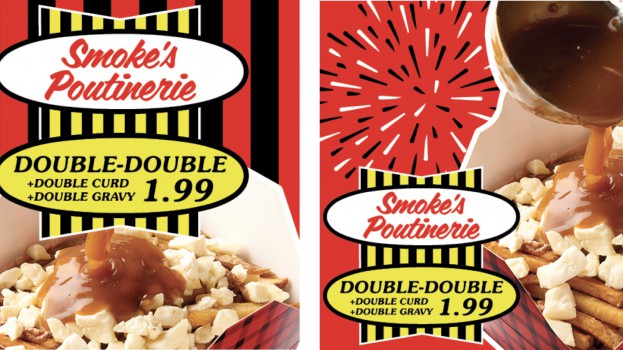 There are some pretty unique poutine combinations on the market — gyro poutine, latke poutine, duck fat tater tot breakfast poutine (can you even call it poutine at this point)? But Canadian chain Smoke's Poutinerie is adding a new option: "Double Double" poutine.
With the campaign creative (conceived internally) borrowing heavily from Tim Hortons' iconic imagery, it's easy to assume Smokes' new offering is merely cheesy fries soaked in an overly sweet, milky cup of Tim's. But fear not: the Double Double poutine is a little less literal.
During the month of November, customers can "double double" their poutine for $1.99 extra, receiving twice the curds and twice the gravy.
In their release on the offer, Smoke's admits to "trolling" the iconic Canadian coffee chain, similar to a move they made last year when they unveiled the Big Mac-inspired "Mac Daddy" Poutine.
For those curious about the Double Double feature, we highly encourage you to check it out, and recommend enjoying with a coffee. However, we cannot stress enough that said coffee should probably be enjoyed on the side.