A toast to the Great One
Wayne Gretzky and friends have paired up with Canadian Tire and Jumpstart for a crispy charity drive.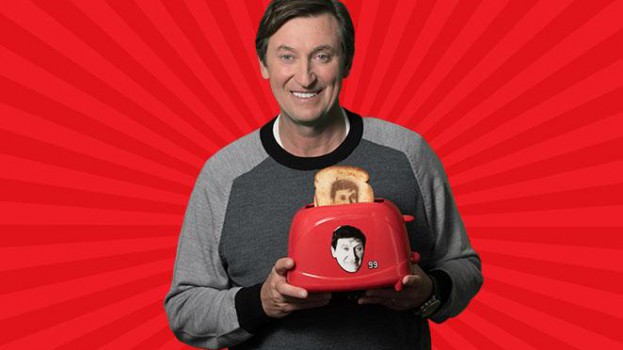 Wayne Gretzky is no stranger to endorsements. Over the years, Gretzky has lent his star power and support to Bigelow's Green Tea, McDonalds Canada and even Stephen Harper.
But the current partnership between Gretzky, Canadian Tire and Jumpstart Canada just may be the quirkiest partnership yet. But trust us, it's for a good cause — and not just the cause of putting Gretzky's handsome mug on a piece of crispy, warm toast.
Okay, let's rewind for a second: Today, Nov. 20, fans of hockey (or of toast) can buy one of three special-edition toasters from Canadian Tire featuring the faces of either Wayne Gretzky, Connor McDavid or Jonathan Toews. The $24.99 toasters not only feature the hockey players' faces on the outside, but also toast them onto the bread.
All proceeds from the toasters go to Canadian charity Jumpstart, which helps remove financial barriers from children looking to participate in sports. The toasters are all appropriately named after their respective player: the Great Toaster, the Toaster of Tomorrow, and the Toews-ter (perhaps a moniker that will only lend more confusion to the pronunciation of Toews' last name, which is indeed "teɪvz").
You can check out the toasters online or in store, but be quick: more than a quarter of toasters were already sold at press time. The campaign's creative strategy was led by Community Agency.