Castle, Frank Station
To promote Netfilx's The Punisher series, Environics capitalized on a naming coincidence.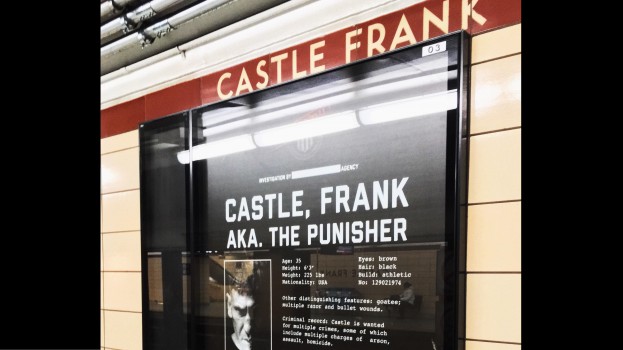 There's not much notable about Toronto's Castle Frank subway station, situated along a tree-lined stretch of Bloor Street adjacent to a mostly residential neighbourhood. The station is, according to the TTC's own data, one of the quietest on the Bloor-Danforth line.
But the station became a source of inspiration for Netflix to promote its new superhero (or rather, antihero) series, The Punisher.
For those unfamiliar with the Marvel comic book series, the fugitive hero at the centre of the series is Frank Castle. To play up the launch of the show, Netflix paired with agency Environics Communications (which handled PR as well as creative for the campaign) to capitalize on the coincidence.
The agency took over the subway station with various posters mimicking documents related to Castle and his run from the law, including his mug shots, fingerprints and "wanted" posters. All were positioned alongside the station's name, drawing the attention of tons of Torontonians. The takeover made a splash on social media, drawing plenty of attention to the central, yet often quiet station. The ads will remain until mid-December.
Perhaps competing SVOD Amazon should take a queue for the next season of The Man in the High Castle.