Stimulant's annual Gift Guide
Here are the best holiday gifts for you creative folk to geek out on.
When the time came for me to lead my first Stimulant gift guide as editor, I was most nervous to come up with my own gift selection. Lately, my holiday celebrations have been a parade of gift cards and bags of socks, rather than cool gizmos under the tree. In short: most gifts these days are utilitarian.
But looking around my desk, I've realized that some of the best gifts I've received are also, well, totally useless. From a pair of cheeky ceramic raccoons to a small, Swedish elf figurine that looks like he was made from spun dryer lint, sometimes the best gifts don't have to accomplish anything other than making you laugh (or smile, or scratch your head).
It's the time of year to have a little fun and get a little cheeky — so tell your inner grown-up to pipe down and listen to your inner child.
This year at Stimulant, some of our team members offered fresh perspective on what creativity means to them. Peruse our gift guide below, and take our advice: skip the gift card this year.
A beginner's guide to geeking out
By Jeromy Lloyd
It's no secret anymore: geek culture has gone from niche to mass.
Video games, once seen as the province of the child and manchild, has become a multi-billion-dollar global industry capable of giving Hollywood a run for its money. Board games got an infusion of charm and smarts from Europe and have enjoyed a rebirth as well.
And smack dab in the middle of all this is Dungeons & Dragons. Until quite recently, it was still maligned by popular culture as the most pimply of the pimply faced pursuits. Maybe the game needed Game of Thrones and Lord of the Rings to go mainstream. Maybe it needed Twitch to provide a platform for reformed players to showcase their spellcasting. Either way, the cool kids have finally cottoned on to D&D and are diving in.
Seriously. Like, the sexy Hollywood types are all over it. Joe Manganiello (Rampage, Magic Mike,Justice League), Deborah Ann Woll (True Blood, Daredevil) and even super jock Vin Diesel all roll them funny dice. The dedicated D&D episode in season two of NBC's Community didn't hurt either.
I think just about every creative person would relish the chance to play a game where they can literally do anything they want and steer a story collaboratively. And because the game is collaborative, some companies even use  it for team-building exercises or test teamwork and leadership skills.
Of course, for those intimidated by the sheer scale of the D&D enterprise, its publishers have created a Starter Set that is playable out of the box. It's a thin slice of what the game can provide, but it's enough to whet the appetites of those willing to see what all the fuss is about.

A lucky beaver to bless your days
By Mary Maddever
Luck may be a bit lacking as a tactic, but what if you had a strategy (read: a not-so secret weapon) to improve the odds? The folks at Jacknife have you covered with Chimo.
Turning their design powers to the good of the nation, they've created a homegrown version of the Maneki Neko cat, the ubiquitous Japanese good luck symbol. Of course, the Canuck edition taps our most industrious rodent, the beaver.
Created by sculptor Nicholas Crombach, Chimo the Lucky Beaver is the first in a series of Jacknife collabs with Canadian artists.
The trophy-sized sculpture would be a brilliant add to any creative's awards shelf, and it's the gift that keeps on giving via karma boosting powers. The limited edition 30-Chimo run (named for the Inuktitut greeting/toast) is over halfway sold, so act fast to nab a genuine Canadian good fortune talisman for only $375.

For those on your list more in the co-worker secret Santa realm than major gift status, head over to Gary Taxali's shop and continue to shop local within the Toronto ad and design industry.  I may be biased (the number of strategy mag covers illustrated by Taxali would indicate that's the case), but who wouldn't want to score his signature Ts, prints and my personal fave, $10 notebooks.

Sock it to me
By Bree Rody-Mantha
I've never been a pinnacle of organization. I lost my very first cell phone on a Greyhound bus two weeks after I got it. My desk at work is a mess of discarded cold-pressed juice jars, a million tea infusers and lipstick, lipstick, lipstick.
My dad has always told me that I'm disorganized because I'm just such a free-spirit — I'm just too creative. So clearly, my inability to simply reunite two star-cross'd socks after laundry day clearly correlates with the fact that I'm just a very creative person, right?
Well, this gift has turned my bad luck into a work of art. This $6 downloadable Estsy print is DIY-ready — all you need to add is a frame and some wooden clothespins. Oh, and your socks.
Nothing to me says a creative Christmas like supporting local and emerging artists, and a downloadable file also means cutting down on the associated costs and environmental impact of shipping. So take a gander around Etsy and see what other printable you can find to soothe your scatterbrained soul.

The sleep-anywhere pillow
By Justin Dallaire
Creatives need a good night's sleep if they are to fulfill their quest for the next Big Idea. But some days, the comfort of a warm bed may seem like a luxury reserved for those in less demanding professions.
That need not be the case, though. With an Ostrich Pillow, a desk will do just fine. Just slip it over your head, tuck your hands in and turn any surface into "your very own snuggly place."
The Ostrich line includes several different pillows, suited for every peculiar sleeping need, but the Ostrich Pillow Original is probably the best bet for the creative on your shopping list. With the ability to nap during lunch, say, or during a dull conference room meeting, he or she will never have to leave the office again.
The pillow's shape creates an "immersive environment," cancelling noise and ensuring sound sleep, according to the company's ads, anyway. In short, the perfect gift for a creative in need of a little extra shut-eye next year.
Depending on the style of the pillow, retail ranges $25 to $85.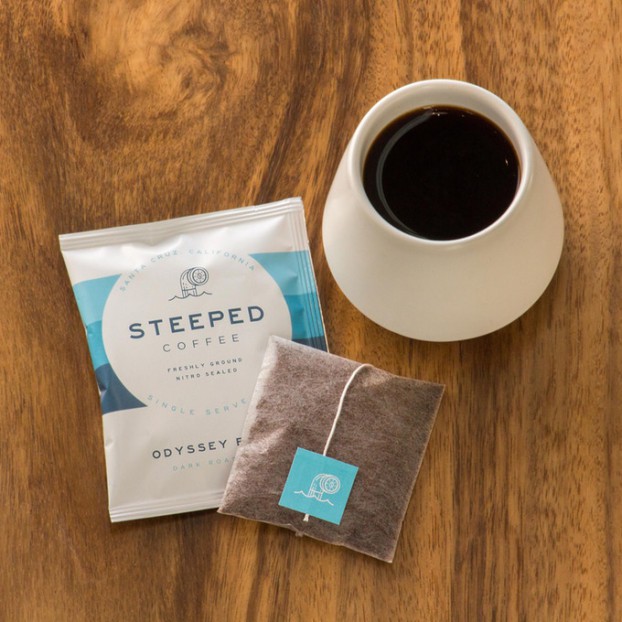 Single-serve coffee, two sugars, no plastic
By Josh Kolm
Despite how wasteful coffee pods are and the expensive machines you need to brew them, the allure of single-serve brewing is understandable. If you live on your own, brewing a full pot in morning can be wasteful as well, and sometimes a single cup in the afternoon is all you need. Luckily, a company has come along that takes inspiration from the world of tea to give you the convenience of single-serve coffee, while still eliminating tons of plastic from landfills.
To simplify things, Steeped Coffee is exactly what it sounds like: coffee in a teabag. The premium blends are packaged in the bag to stay fresh, while still letting the water in to brew a cup. All the packaging is also fully compostable, and the ink used is water-based and all natural, giving people used to tossing pounds of plastic pods into the trash the opportunity to drastically reduce the environmental impact of their morning cup of coffee.
It's also more convenient than pods, as you can brew a cup anywhere you can get hot water, eliminating the need for a machine.
Steeped Coffee has already surpassed its goal on Kickstarter and will begin shipping soon, but if you you pledge the right amount in the next 11 days, you can also get some new mugs or a fancy new stovetop kettle to match your new preferred method of brewing

A pet without the commitment
By Bree Rody-Mantha with help from Neil Ewen
Several members of our strategy and Stimulant sales team partook in this year's gift-giving extravaganza, and their recommendations did not disappoint.
Ad sales supervisor Neil Ewen knows all too well how busy life in the creative world can get. For his gift recommendation, he went straight to the most creative place possible: the gift shop at the Museum of Modern Art (or at least, the online shop).
The JinGoo is a comforting tabletop light for those nights when you're stuck at your desk late at night working hard on your campaign copy. What's so special about the light? Well, JinGoo is also a pet. The soft amber light that glows from the birdcage-shaped lamp is reminiscent of an actual caged bird, without all the mess. If that wasn't enough, JinGoo also comes with a Bluetooth-controlled speaker to mimic a bird's twitters (no, not that Twitter). So when the sun comes up and you're still at your desk, you too can pretend to enjoy the morning dew and the early birds.
JinGoo was designed by Taipei-based designers Sean Chen and Lotta Tu, who funded their creation on Indiegogo to bring a modern re-imagining of traditional Chinese crafts and gifts to the world.
Priced at $295 U.S., it might seem a little steep, but just remember: you don't have to take this one to the vet.
In Neil's words, it's for those who love animals but are "too self-absorbed to actually look after one." We say it's a great way around the whole "no office pets" policy.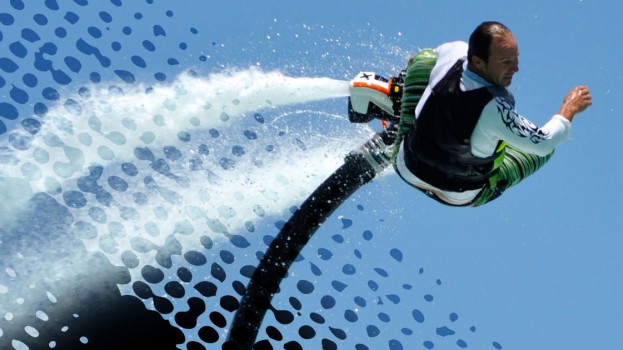 A water jetpack. 'Nuff said.
By: Bree Rody-Mantha with help from Adam Klymkiw
Every year, the Stimulant gift guide sees at least one gift that breaks the bank (last year, it was Mary Maddever's robot bartender for a cool $25,000). So far this year, we've been pretty modest in our gift ideas — from a $6 printable poster to an $85 sleep-anywhere pillow, we've been keeping it low-key this season.
Account manager Adam Klymkiw, however, decided he wanted to put a freaking jetpack on the list.
Not just any freaking jetpack: a freaking water jetpack. Shanghai-based X-Jets creates hydro-powered jetpacks, which use the power of water to propel users around.
They're not exactly consumer-grade (and our Google search for "jetpacks+legal+Toronto" didn't exactly turn up fruitful results), but you can indeed buy a base kit for just over $6,000.
So why does Adam want to buy this for all of his friends? In his own words:
No more boring commutes to work;
At your cottage, you get to be "that asshole with a jetpack;"
You get to feel superior while soaring over philistines in their canoes and paddleboards;
A true sense of freedom (and not just because you have financial freedom, being able to afford one of these things); and
Reasonably priced.
(We assume "reasonable" is subjective).