Plugging in at the pub
Flexday is turning empty Toronto restos (that are closed to diners during the day) into inspiring work spaces.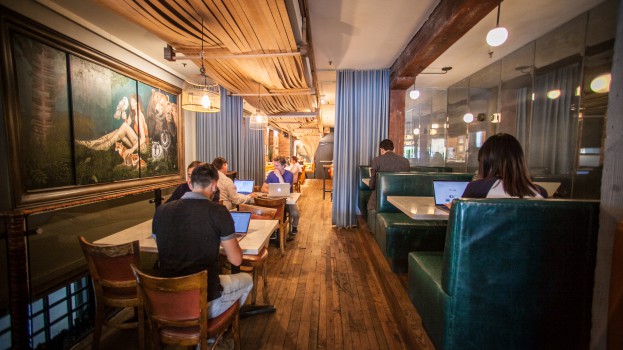 We don't want to stereotype, but it feels like for many creatives, nothing is more soul-sucking than a cubicle.
Sure, collaboration in an open-concept office is great. But when it's time to get down to brainstorming brass tacks, finishing an edit of a video or pounding out that last 100 words of copy, it's not surprising that many teams opt for the coffee shop or another more private venue.
Toronto-based start-up Flexday is on a mission to bridge the remote working gap for professionals, offering spots that take them away from a distracting office environment but allow them a bit more functionality than a tiny table at Starbucks. Through its business model, it partners with bars and restaurants that are normally only open for dinner, making use of the otherwise vacant spaces and turning them into intimate, collaborative work environments away from the hubbub of an office bullpen.
Each site is equipped with fast wi-fi, premium coffee and tea and a charging station at every table. Current partners in Toronto include Marben on Wellington and SpiritHouse on Adelaide, with additional venues to be announced in the coming weeks.