One round of clients, shaken, not stirred
Cundari's holiday card features some client-inspired drinks that actually look pretty darn good.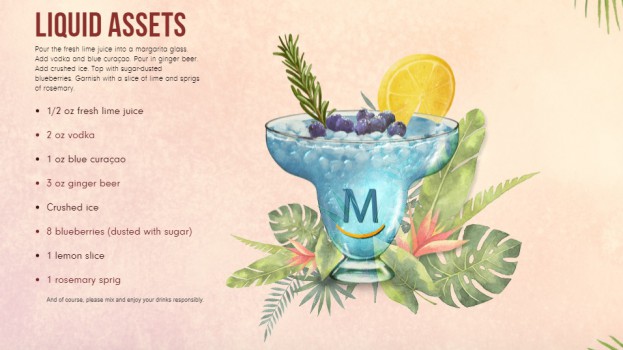 The best clients inspire their agencies. Some inspire their partners so much that they create an entire holiday drink menu around them.
For its holiday card, Cundari posted an interactive holiday spirits menu with drinks styled after their clients — from the LCBO to Canada Dry and even Meridian Credit Union ("Liquid Assets?" Come on, that's hilarious).
Not all of the brands could easily be mixed into spirits (sorry, but we can't all be Mott's Fruitsations), however some still became inspiration for cocktails, from the sophisticated to the downright silly.
For example, "The Quiet Muffler," inspired by Speedy (who else?) was comprised of equal parts grenadine, creme de peche liqueur and blue curaçao. We're not sure exactly how that quiets a muffler, but you know what? We'll take it, because it'll quiet all our worries and cares.
We'd like to take this opportunity to remind you to drink responsibly this holiday season, which to our understanding means enjoying a drink while vacuuming regularly and preparing to file your taxes in February.