Foot Locker unboxes a new Snapchat strategy
To promote the Air Jordan Gatorade sneakers, the retailer let social media users become an unboxing star for a day.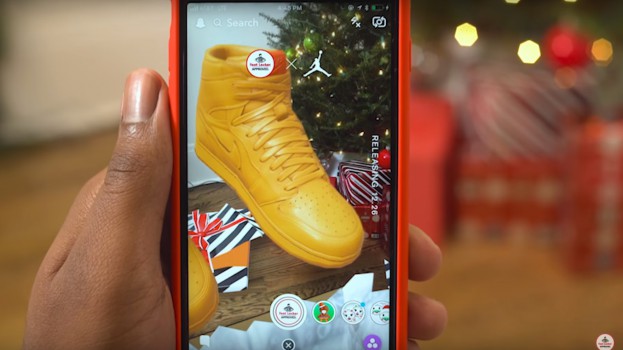 "Unboxing" videos on YouTube, Instagram and Snapchat are one of the hottest genres of videos. Among the hottest items to unbox are makeup, tech toys and, of course, sneakers.
But when the new Gatorade-branded Air Jordans (yep, they're real) were set to hit Foot Locker stores on Dec. 26, the retailer partnered with Snapchat to let users "unbox" the shoes a little early.
Pairing with agency BBDO New York, Foot Locker created a Snapchat AR lens that let users virtually unbox the new shoes the week before they were released. Users could select the colour of the shoes (all inspired by the iconic sports drink) and pretend to be an unboxing influencer for the day. They could take their shoes for a walk around their environment and essentially "demo" the product before the release date.
Also included in the lens was a basketball hoop, which users could discover and play with when circling the lens around their environment. According to BBDO, it's the most complex world lens on Snapchat to date.
Credits:
Brand: Foot Locker
Agency: BBDO New York
Production company: North Kingdom