In her words
The New York Times says the truth has a voice.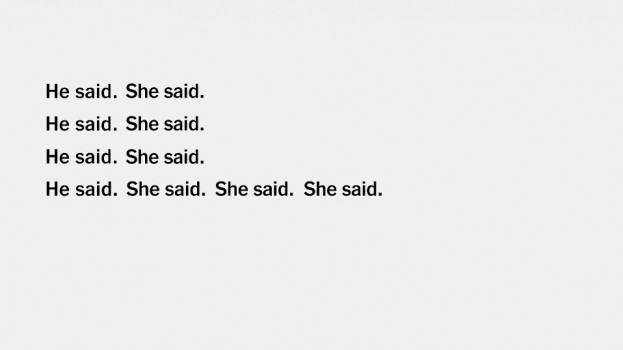 Those watching Sunday night's Golden Globes broadcast were already aware of a different energy in the air.
Some voices were just a little bit louder. Some truths were told a little more bluntly. And for the first time in a long time, the balance of power felt just a little different.
But a new TV spot by the New York Times underscored that energy. The motion graphics ad doesn't say what it's about, but it's pretty obvious. As a typewriter alternates "he said" with "she said," the instances of "she said" appear more quickly and frequently, until the screen is filled with "She said."
The spot is a testament to women who have come forward with sexual misconduct allegations — and the importance that reporting plays in breaking these stories.
Last year, newspapers promoted themselves largely through campaigns surrounding truth, reliability and seriousness in a world filled with fake news. The Times itself came out with its own campaign, entitled "The Truth is Hard" (with creative managed by Droga5 New York). Now, the paper, which published the initial exposé of producer Harvey Weinstein on Oct. 5., has shifted that truth to the topic of sexual misconduct.
However, the ad has already drawn criticism for the paper's recent decision to not dismiss White House reporter Glenn Thrush, although it publicly stated that it did not condone inappropriate behaviour alleged by four female journalists. Thrush, who has been suspended without pay since November and will remain so until the end of the month, will return in February to a new beat.
Credits:
Brand: The New York Times
Agency: Droga5 New York