IKEA wants your pee
Urine for a treat, folks (sorry). The retailer is giving discounted furniture to those with child.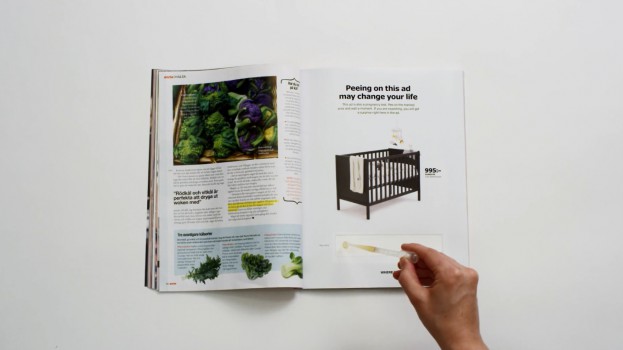 Pop a squat. IKEA needs a favour from you for its next ad.
It wants you to pee on it.
Okay, you don't have to pee on it. Only if you want a discount on the furniture giant's line of cribs and have a sneaky suspicion you might be expecting. A discount code will only be revealed if you're pregnant, which, you guessed it, can be detected by the ad. The ad is outfitted with technology similar to that in home pregnancy-test kits.
It's the brainchild of Swedish agency Åkestam Holst (so calm down Canadians, these public displays of nudity and indecency will only be encouraged in Sweden).
For what it's worth, the print ad is in Sweden's Amelia magazine, so you might want to only partake once you've given it a good read. Hey, who said prince was dead?
While we applaud the creativity, we also encourage Canadian marketers, in this case, to not follow suit. We don't care if you're looking to offer sales to people who have UTIs or kidney stones. Just don't. We would like to take this opportunity to remind you that our readers of our sister publication, strategy, regularly circulates in print and we would like to keep it free of urine, as it has been since its founding in 1989.
Credits
Client: IKEA Sweden
Agency: Åkestam Holst
Ad tech: Mercene Labs