Burger King is cool with being the worst
The chain's new campaign in the Netherlands invites fans to grill everything awful, from Crocs to bad gifts.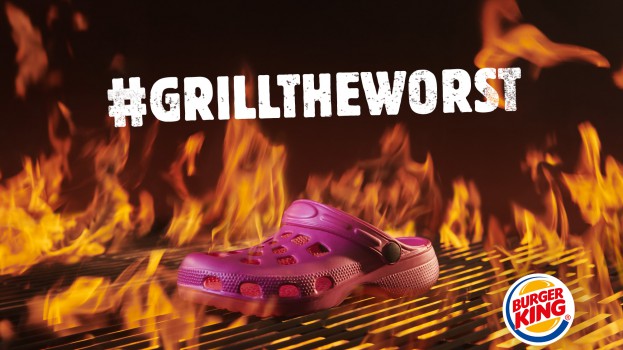 While Burger King France is trying to convince people that a Whopper is to die for, the chain's arm in the Netherlands is trying a different approach. It's telling people their newest product (grilled hot dogs) are the worst.
"Worst," of course, is slang for hot dogs in the Netherlands. But the pun has mutated into the message behind the latest creative campaign for Burger King, known as "#GrillTheWorst."
The campaign invited folks from all over Amsterdam to a public grill-off on Jan. 15, where a team of Burger King "grill masters" lit up to grill the "worst" of 2017. From pink Crocs to tax bills and bad holiday and birthday gifts, Burger King wasn't above grilling anything.
Credits
Client: Burger King
Marketing team: Andrea D'Aloia, Madhav Kapur, Ana Mendes
Agency: Etcetera
Creative directors: Tolga Büyükdoganay, Raymond van Schaik, Ben Imhoff, Wouter Voges
Strategy: Frank Huiberts, Margot Bouwman
Social strategy: Michael Nap
Design: Lynnet Wams, Michiel Koorstra
Account: Martin Stiemer
Agency producer: Marc Elbers, Remko Esser, Anne Verdaasdonk
Production company: Vigics
Director: Dwight Groot
Producer:  Sophie Victorine
Production manager: Lisanne van Steen
DOP: Jorne Tielemans
Focus puller: Eli van Cleef
Gaffer: Berend Holtkamp
Art director: Klaas Wijnberg
Set dresser: Marten Hoekstra
Fire-expert: Arjan van Drunen
Photography: Kaj van Geel
Edit: Vigics
Grading: Rik Mahieu @ Baseline
Sound design: Sjoerd Kats
Composition: Daan Jansen
PR: Jessica Hartley, Patricia Bruens