ING Direct comes to the rescue
The digital bank is presenting a cinematic twist on client experiences.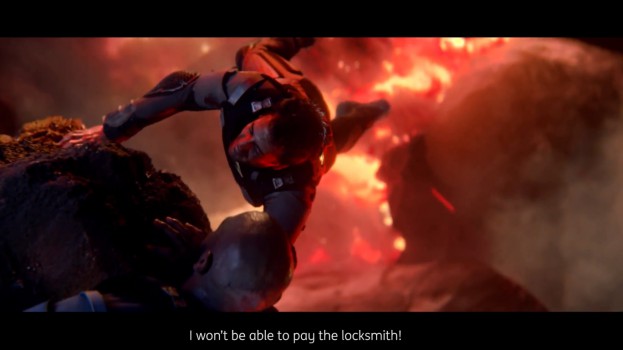 Banking is for humans. That's the essential message behind ING Direct's new French campaign, "Human to Human BankING."
It might seem off-brand for a bank that operates entirely digitally. But the bank, through its new agency Rosapark, is positioning itself as a softer and more personal experience through the tagline "the bank that invests in me."
Rosapark spearheaded a number of social media short films, each of which features a phone conversation between an ING Direct advisor and a client. Each call is related through an allegory of how the client perceives their urgent scenario and the fact that the right answer, at the right time, can save their life. The films use a mix of live action images and 3D, with cinematic action elements.
Jean-Francois Sacco, co-founder and creative director of Rosapark, said the style is "purposefully exaggerated" and "almost Hollywoodian." Cinematic-style movie posters will also become part of an outdoor advertising campaign in Paris and Lyon.
The new campaign is rooted in the results of an OpinionWay poll from December 2017, which shows that 86% of French people find it difficult to get a hold of someone in client services. Nearly half of those surveys felt like they were viewed as numbers and not humans.
After debuting on social Jan. 11, longer versions of the films will run in French theatres starting Jan. 25.
Credits
Brand: ING Direct
Marketing and commercial director: Yvon Martin
Brand and media manager: Amélie Nguyen Ngoc
Advertising and content manager: Marine Léoni
Agency: Rosapark
Managing director: Sacha Lacroix
Account Director : Soraya Cottin
Account Manager: Caroline Planty
Creative directors: Jean-François Sacco/Gilles Fichteberg
Copywriter: Pierre-Antoine Dupin
Art director : Frédéric Leclerc
Strategic planner: Sonia Guitz
TV producer: Elodie Jonquille
Art buyer: Camille Asal
Production house: Birth
Director: Nalle Sjöblad
Post Production: Mathematic
Photographers : Nick & Chloé