Tourisme Montreal says change is good
The agency's love letter to Quebecers has a simple message: things are different now.
Montreal wants the world to know that it's changed with a campaign that's pretty straightforward: "J'ai changé" (or "I have changed.")
Much like its 2017 "Sorry" campaign in anticipation of its 375th anniversary, "J'ai changé" targets other Quebec cities, using billboards, newspapers, digital, TV and radio to show how it's changed. In some cases, it's short and sweet: a poster laid out like a letter from Montreal, reading "Dear Quebec, we've changed. Come see me again."
In other cases, there's a bit of romanticism to it, like the digital video ad featuring an apologetic voicemail, as if from a former lover who wants you to know that things are different now.
If the ads aren't enough, Quebecers might expect a lovelorn letter from Montreal in the mail sometime soon. The letter expresses explicitly how things will be different now — better food, better arts and culture, better architecture.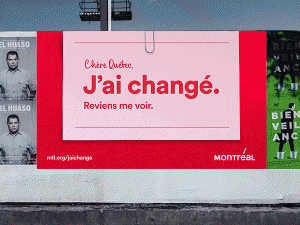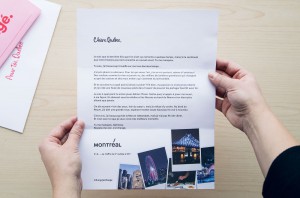 Credits
Brand: Tourisme Montréal
Agency: Lg2
VP, creative: Marc Fortin
Creative director: Marilou Aubin
Creative: Jean-Christophe Laniel, Pierre-Luc Loranger, Nicolas Labbé
Strategic planning: Sabrina Côté
Consulting: Julie Dubé, Stéphanie Pellicer, Évelyne Harnois Lebeau
Agency production: Nancy McDonald
Production: 1st Production
Post-production: BLVD
Editing: Jean-Philippe Granger
Project manager (print and digital): Mélanie Thérien, Marie-Élisabeth Fouquet-Bouchard
Media: Touché!