No logo? No problem
Old Blood's new approach to labels.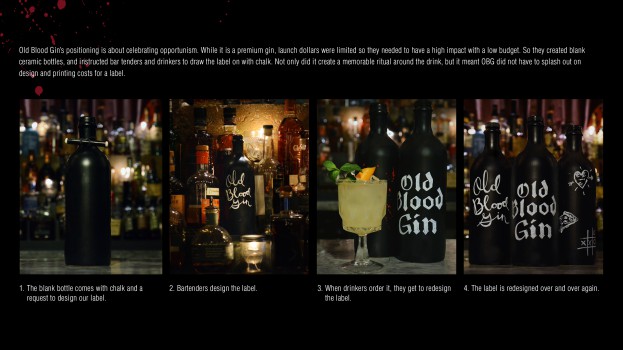 Old Blood Gin, Rivalry Spirits' premium gin brand, is giving Canadians a chance to flex their creative muscles with its launch campaign.
Pairing with creative shop Cheil Canada, Old Blood designed black ceramic bottles that could be drawn on with chalk. Drinkers and bartenders were then asked to draw their own take on the gin label whenever they ordered or served a drink.
The result is a label, which can be re-drawn, that evolves with every drink. Who knows what kind of creativity a few gin and tonics will unlock?
The brand's catchphrase is "40% alcohol. 61% ingenuity." We're not certain that math adds up, but math was never our strong suit, so we're just going to go with our gut.