Skyn makes a travel guide for lovers
The condom brand creates a surprisingly robust look at the world's most intimate travel destinations.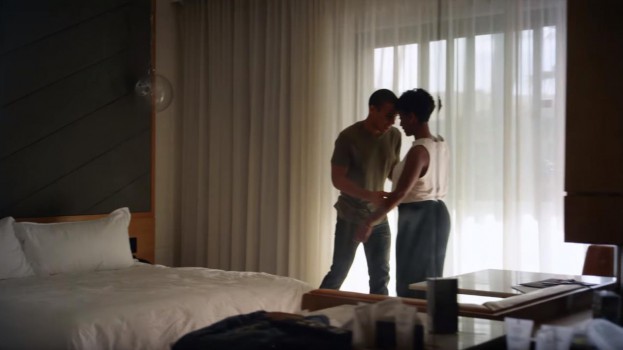 Hotel guides and reviews have become an invaluable asset for anyone planning a trip. But how many of those reviews are geared towards people with more of a romantic getaway in mind?
Created with help from agency Sid Lee Paris, condom brand Skyn worked with GQ Magazine/Conde Nast Traveller to curate 30 locations around the world deemed the best places to be intimate with a partner. Then, 12 couples were enlisted by Skyn to travel to each of the hotels and resorts, recording their experience and writing entries for "Places of Intimacy," a travel guide that was printed and sent around the world.
The guide, which can also be found on a dedicated microsite, doesn't have as much of a one-track mind as you'd think. Sure, there are a lot more descriptions of having hands run through the writer's hair or how the linens feel against bare skin than you're likely to find on TripAdvisor. But each entry also goes into enough detail and description of the decor, scenery and cuisine to give you a crystal clear picture of what it's like to stay in each hotel when you're not otherwise occupied (also, bonus points to Skyn for showing a range of different ages, races and sexualities in the couples they enlisted as travel guides).
Credits:
Brand: Skyn
CEO: Jeyan Heper
VP, global marketing: Matthew Groskorth
Head of strategic planning – global marketing: Marta Toth
Global brand lead: Nicolas Woussen
Agency: Sid Lee Paris
Chairman & executive creative director:  Sylvain Thirache
President: Johan Delpuech
Creative directors:  Céline &  Clément Mornet-Landa
Copywriter:  Simon  Lamasa
Art director:  Olivier Bodet
Head of strategy:  Alex  Pasini
Strategists: Ambroise Soulé, Patrice Zamy
Group business director:  Mehdi  Benali
Account director:  Héloïse  Marchal
Account  manager: Trisha  Mitra
Head of production:  Thomas Laget
Producer, TV:  Marine Redon
Producer, print:  Julia  Flusin
Head of digital production: David Bismut
Digital producer: Clément Cassajus
FILM
Production house:  Agence  80
Director: Thomas Kelly
PRINT
Design house:  Irradié
Printing house: Koryo
DIGITAL
Designer: STINK Studios
Developer: STINK Studios