This is a mannequin's world
Fallsview Casino added some backstory to the props on its new billboard.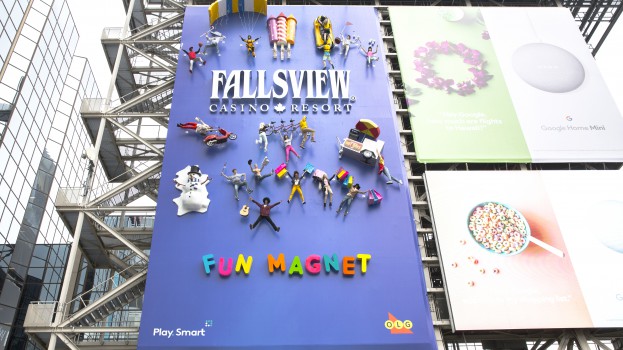 Fallsview Casino Resort wanted to get a simple message (that it's a "fun magnet") out with a super-visible billboard.
On the the billboard (measuring 40 by 73 feet and overlooking Toronto's Yonge-Dundas Square), it appears as though a bunch of people have been magnetically pulled from the streets and onto the Fallsview fun magnet.
OK, they're not real people (we assume that's illegal, but it would still be a pretty innovative media buy), Fallsview and agency Arrivals+Departures actually used mannequins.
But the team still wanted to give the impression that these were real people — so Arrivals+Departure came up with a plan. On social media, it posted about the lives of the mannequins prior to the day they found themselves stuck to this billboard, giving a fun twist to the campaign.
"Mannequins like the ones featured are all around us and tend to blend into the background," said Jason Locey, CCO for Arrivals + Departures. "We focused on the fun that goes hand-in-hand with the brand, and that extra layer gives even more opportunity to experience the fun."
Credits
Client: Fallsview Casino and Resort
Director of marketing services: Jennifer Ferguson
Agency: Arrivals + Departures
Chief Creative Officer: Jason Locey