A lounge chair that requires some heavy lifting
German company Hornbach's new build-it-yourself lounge chair makes an argument for accessible design.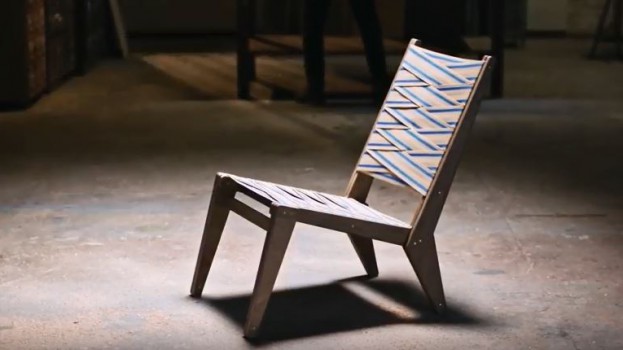 Sigurd Larsen believes that great design should be accessible to everyone.
In a move that proves how seriously he takes that notion, the Danish designer and architect has partnered with German DIY-store chain Hornbach on a Werkstuck "lounge chair," which comes with some assembly required.
The item is the first in a broader yet-to-be-released Werkstuck Editions line, conceived by the company's creative agency, Heimat. Those who wish to sit in a Werkstuck lounge chair will have to build it for themselves, with the idea that the purchase should be more of an investment in time than money. All the materials can be found at Hornbach and cost about 130 Euros (plus another 18 for the printed "Builders Book" containing step-by-step instructions.)
The chair is being promoted in two video spots, as well as print, digital and social. Hornbach says the "Builder's Book" is at the "core" of its communication strategy, allowing the brand to tell a story, to convey "the value of an idea," in addition to serving as an instruction manual.
Credits
Client: Hornbach
Agency: Heimat, Berlin
Chief creative officer: Guido Heffels
Creative director: Guido Heffels, Marlon Fischer, Felix Pfannmüller
Art director: Sascha Jörres, Marco Bienek
Copywriter: Mo Sadeghi, Teresa Guggenberger
Agency producer: Charlotte Kühn
Agency management executive: Matthias von Bechtolsheim, Maik Richter
Agency account supervisor: Tim Holtkötter
Agency account manager: Franziska Lequen, Kimberly Schwarck
Media agency: Mediaplus, München