Playing the feminist card
Lg2's new poker deck changes poker and a few preconceived notions.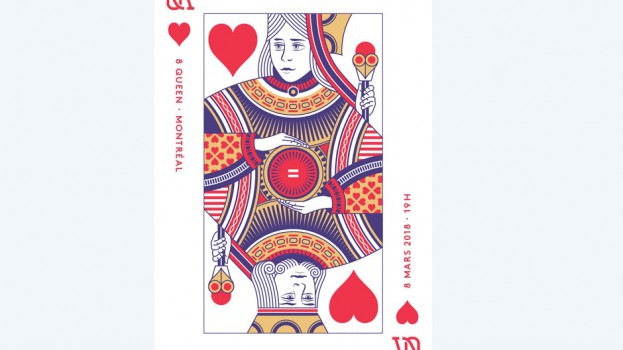 You've never played poker with a deck like this before.
In celebration of International Women's Day on March 8, Femmes en créa  (an advocacy group for women in the creative field) has organized an ad industry-wide Equity Poker Tournament. But there's a twist: the kings and queens have the same value.
To make the twist absolutely clear, Lg2 has created a special deck that combines kings and queens to a special twin card.
"Poker has been played for centuries," said Andrée-Anne Hallé, copywriter for Lg2. "Questioning why the queen has less value than the king, and re-defining a universal symbol that everyone recognizes makes a strong statement and helps to promote equality."
Femmes en créa organized the tournament in order to promote gender equality within the advertising industry. According to a 2015 A2C study, client services departments at Quebec agencies are 83.5% female, while executive positions are 77.4% male.
"We can no longer keep our heads buried in the sand," said Sarah-Catherine Lacroix, copywriter for Tam-Tam/TBWA and co-founder of Femmes en créa. "Although it's 2018, we are still dealing with issues that shouldn't exist, especially in an industry that claims to be as progressive as ours. It's time that we work together to create true equality. It's long overdue."