To infinity (mirrors) and beyond
A cool new clutch is now available at the Art Gallery of Ontario and nationwide at Hudson's Bay stores.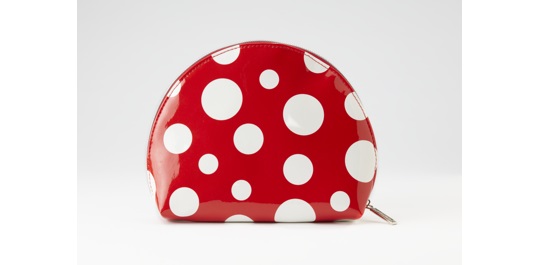 Luxury cosmetics brand Shiseido has teamed up with the Art Gallery of Ontario to sponsor one of its most-anticipated exhibits – Yayoi Kusama: Infinity Mirrors – and create a unique accessory to commemorate the partnership.
The AGO hosts the only Canadian stop for the exhibit until May 27. During the exhibit's run, AGO guests will see Shiseido's logo on sponsor signage matching transit ads across the city (the gallery is wrapping streetcars and running ads inside subway stations).
But visitors will also have the chance to take home a unique item. Shiseido has developed a Kusama-inspired red and white cosmetics bag themed after one of the artist's famous polka-dot patterns. A limited run of the bags will be sold in the AGO's gift shop, and the bags will also be part of a gift-with-purchase promotion at Shiseido stores in Hudson's Bay locations across Canada during March. The brand is relying primarily on social channels to promote the product.
Elaine Shigeishi, VP of Shiseido in Canada, told MiC she hopes to increase brand awareness and its customer base with the retail product. It worked with the gallery on a series of monthly events in 2017, and plans to further partner with the AGO to help launch products within its Shiseido Essential Energy line. The brand has previously been active in sponsoring cultural events with Toronto's Nuit Blanche festival and Canada 150 events in Toronto, Montreal and Vancouver.
However, the bag product is a new type of partnership for the AGO, said Kate Taylor, director of corporate partnerships and development special events at the gallery. The Shiseido sponsorship is the first relationship that has promoted the AGO brand on a national level thanks to the Hudson's Bay promotions.
The exhibit, which opened officially March 3, has already seen massive success. Its first 100,000 tickets sold out within three hours (a second block of tickets will go on sale tomorrow).