Can a personal flotation device fit the whole planet?
Non-profit GoodPlanet straps a life vest to a Parisian statue in the name of climate change.
Last month, while Paris was in the midst of yet another record-breaking flood, all eyes were drawn to the statue of Zouave on the Seine river's pont de l'Alma.
Parisians have used Zouave as a yardstick to gauge the river's swell for years, but for the first time, Zouave was starting to drown. As the water crept up his legs every day, it served as two stark reminders: one, that climate change is real; and two, that it's only going to get worse.
Environmental organization GoodPlanet decided to use Zouave's situation to draw attention to the impacts of climate change. With all eyes on Zouave, they outfitted him with a giant life vest. The stunt was executed with the help of  agency Rosapark.
As media attention swirled around the newly outfitted Zouave, GoodPlanet stepped forward as the culprit and used the opportunity to encourage Parisians to support projects for renewable energy, biodiversity conservation, agro-ecology and sustainable waste management.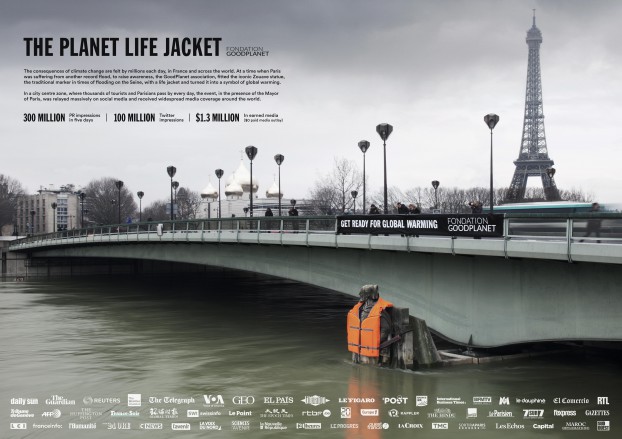 Credits
Client: GoodPlanet Foundation
Agency: Rosapark
Co-founders: Jean-Patrick Chiquiar, Jean-François Sacco, Gilles Fichteberg
Creative directors: Jean-François Sacco/Gilles Fichteberg
Copywriter: Nicolas Gadesaude
Art director : Julien Saurin
Account directors: Soraya Cottin, Hicham Ghazaoui
Production house: Birth
Photographer: Yann Arthus-Bertrand