Who's this ad really talking to?
The Responsible Gambling Commission's new ad does a swift flip of the creative... depending on who you are.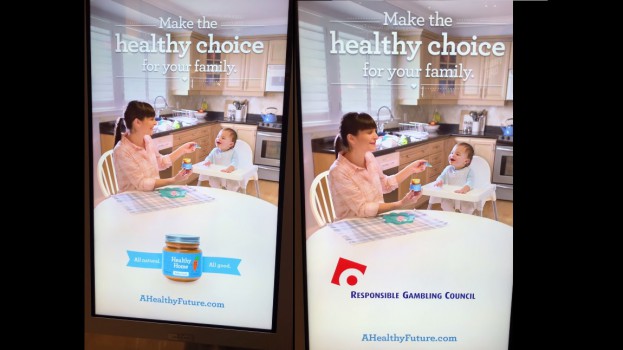 What looks like a pleasant, everyday ad for baby food in the busy Vaughan Mills Shopping Centre can turn into something a lot more profound — depending on who you are, of course.
At first, the digital OOH ad indicates that it's marketing a product entitled "Healthy Choice." But current technology enables the ad to market a message about another healthy choice.
When some – but not all – shoppers get closer, the ad's message flips. The mother in the ad addresses solitary shoppers and talks about being alone because her husband is off gambling. The ad creative then changes to reveal the information for the Responsible Gambling Council.
The sign technology, provided by Cineplex Digital Media, uses motion camera technology to determine who's looking at the ad and, more importantly, if they're alone (in order to address those who may be affected by gambling confidentially). The ad also won't be triggered by children.
Creative was conceived by Lg2, with production by Makers Media.
The goal was to create an "intimate interaction" while still bringing broader awareness to the issue of gambling addiction.
Credits
Client: Responsible Gambling Council
Creative agency: Lg2
Production company: Makers Media
Media agency: PHD