A pre-roll to get caught up in
A new micro-drama entitled 'The Buzz' has episodes so short, it makes Vine look like Return of the King.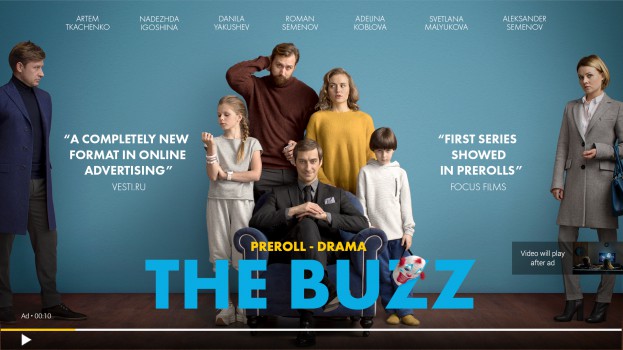 Sometimes in online video, drama spills out where you least expect it – from creator drama to comment section soap operas. But what about a drama that unfolds in the pre-roll?
BBDO Group Russia's Bootleg has created a new "pre-roll drama" known as The Buzz. Bootleg created 34 episodes, which only last 10 seconds each, to promote Russian telecom provider Rostelecom.
Most of those 10 seconds are taken up by the actual Rostelecom promotion, so what you really end up with is a couple seconds of unfolding narrative (all starting with a couple enjoying a romantic movie together) followed by an advertisement in context. It actually ends up being quite intriguing – dare we say, addictive? – given how little the plot advances each time.
Check it out in its entirety, if you don't believe us. But we will warn you, there's something surreal (bordering on hilarious) about the Rostelecom spokesperson popping up every few seconds when you watch the episodes all together. Perhaps this says something about our love of binge-watching.
Credits:
Client: Rostelecom
Agency: Bootleg (BBDO Group_
Creative director: Alesha Starodubov
Senior art director: Anton Chalov
Senior copywriter: Nikita Nikiforoy
Account director: Vladimir Pervozvansky
Account manager: Olesya Pashina
Producer: Ekaterina Kruchkova
Assistant producer: Anastasia Nikolskaya