Pursuing perfection in music and in tech
A new spot for IBM draws parallels between life as a guitarist and life as a tech executive.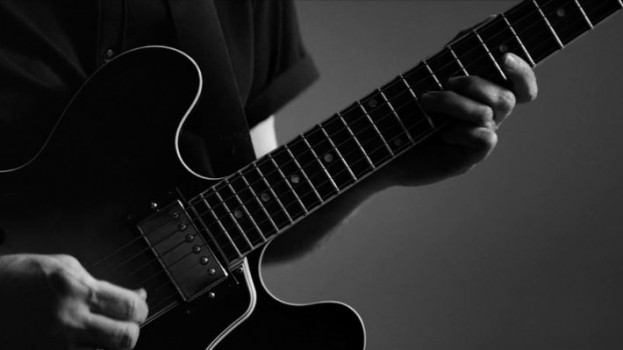 A new IBM spot attempts to draw a parallel between life as musician and life as a technology executive in pursuit of perfection.
The technology company's "Quest for Flawless" video, by agency Hogarth NYC,  begins with Steve Ginsberg, the CIO of a music streaming company, telling viewers that music "begins with something simple, which can soul-soothing, sometimes directed from an inner place, you might not even know where that is, and when it's really happening, it'll all come back and out through the guitar." Ginsberg jams on his guitar for a while, before his thoughts on music kind of blend into a message about IBM's technology business. From pursuing a "feel and a grove," to being able to change tempo and approach at any time, turns out there are a lot of parallels.
Director Andrew De Zen tells Stimulant the brand aimed to do something a little different with the creative this time, shooting the spot in black and white and focusing more on Ginsberg's personal love of music. Like music as in his job, the CIO is always in pursuit of that "flawless state."
Credits:
Client: IBM
Agency: Hogarth NYC
Creative director: Erez Avshalom
Supervising producer: LauRenn Reed
Director: Andrew De Zen
Producer: Matty Rich
Production supervisor: Shun Tsuchiya
1st assistant director: TJ Sansone
Director of photography: Oren Soffer
Production designer: Rachel Barker
Editorial: Relish
Editor: Michael Barker
Assistant editor: Scott Edwards
Sound designer: Eugenio Battaglia
First assistant camera: Ken Kendrickson
Second assistant camera: Rondon Nolito
B camera operator: Fredrich Freundich
B camera 1st AC: Robert Ko
Colour: Alter Ego
Colourist: Clinton Homuth
DIT: Quintin Harris
Gaffer: Jonathan Alvarado
Best boy electric: Leroy Prompakedee
Key grip: Mike Kim
Grip: Andrew Naugle
Art director: Amando Morales
Art PA: Tyler Walker
Wardrobe: Angela Rioloreales
Wardrobe assitant: Marina Press
Hair/make up artist: Joan Grey
Sound mixer: Matt Caulfield
Script supervisor: Ariel Rosner