Old Spice goes ready-to-wear
Forget fragrance samples. This takes it up a whole other level.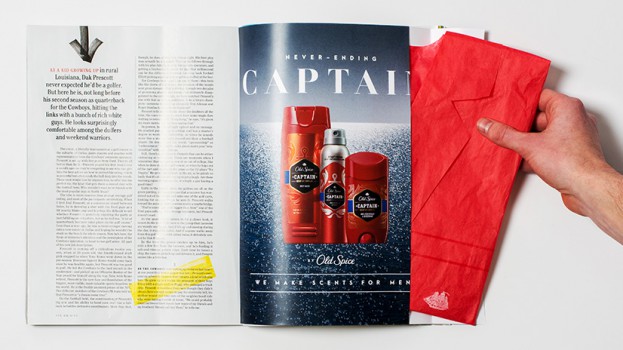 In a romantic scene from the classic Adult Swim cartoon Clone High, teenage Abraham Lincoln protests to his girlfriend, "What else can I do to make this perfect? I'm wearing eight magazines worth of Drakkar Noir!"
Clearly, Abe didn't get the memo. You can always do more, even if the only tool at your disposal is a magazine.
Old Spice's new print ad doesn't just have a sample of some of the fragrances in its new Old Spice Red line (which it's billing as higher-end fragrances than the stuff one typically gets out of the drugstore aisle). It has a whole blazer.
Yeah, you read that right. You rip out the blazer, unfold it, and you have yourself a nice paper jacket. With a little bit of light fragrance.
The stunt was conceived by Portland-based agency Wieden and Kennedy. The campaign is part of an effort to align Old Spice as more of a fashion brand – even if it's in a bit of a tongue-in-cheek way.
Hey, we're all for it. Especially if it means finding a last-minute outfit to wear for a big date.
Credits:
Client: Old Spice
Agency: Wieden and Kennedy
Creative director: Ashley Davis-Marshall, Matt Sorrell
Copywriter: Andy Laugenour
Art director: Robbie Rane
Media: Cherish Lee, Melissa Meier
Account: Ghada Soufan, Katie Schaller
Fabrication: Ellen Osborn
Studio: Ken Berg, Patrick Cahalan