To infinite food and beyond!
Tendril's new game is adorable. And it's full of crap.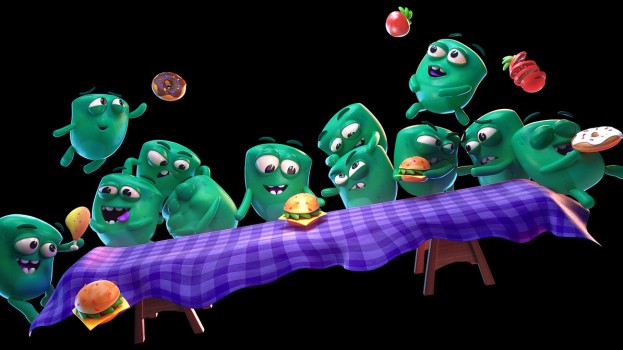 Toronto-based design and animation studio Tendril normally produces work for agencies and brands. But its latest project is something that goes right into the hands (and hearts) of consumers.
The studio has launched its first-ever mobile game, Yum Yummy Superlicious (rolls right off the tongue)! This action game stars the adorable Yums, who are out to eat all the food in the galaxy (and in an infinite galaxy, there's infinite food). What propels the Yums? Their own butts! When they poo, that shoots them off like a rocket in the opposite direction. The more they eat, the more they poo!
Okay, it sounds a bit gross, but believe us, it's adorable.
Ashley Monaghan, executive producer of Tendril, explained that the agency likes to embark on such side projects in order to "check off a box on the collective bucket list." The path to Yum Yummy Superlicious began last year when Tendril pitched a side-scrolling tower defence game, Air Goblins, to the Ubisoft Indie Games series. Although Air Goblins didn't win the grand prize, it took home prizes for art direction and risk mitigation, and then shaped the development of this new, "crappy" game.
Tendril also consulted with Capybara Games on the game's development. The game is available on iOS – if you're curious, check out the trailer!