The write stuff
Conscious PR CEO Sandra Nomoto created flaunt-worthy journals.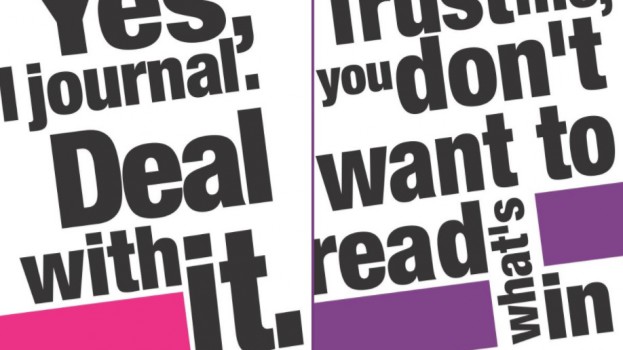 All creatives approach tasks differently, but we assume that most of them, at some point, write things down. Or draw them out. Or find themselves at the end of the day dumping a total stream of consciousness into an open, welcoming book. Some like the bullet journal format, others write in a narrative style, and some have journals that look like an erratic road map.
Regardless of how you journal, why you journal or what your journal looks like, it's time to stop apologizing for journaling. At least, that's what Conscious PR CEO Sandra Nomoto thinks.
On top of running her PR agency (because, you know, that's not a tough job or anything), Nomoto somehow found the time to create a set of journals that are anything but plain, anything but inconspicuous, and anything but apologetic about it.
Dubbed Journals by Sandra, the books feature bright colours, bold fonts and even brighter, bolder messages on the cover: "Yes, I journal. Deal with it." Not your style? Why not try "Trust me, you don't want to read what's in here." Looking for a little bit more edge? "Fuck yes, it's time to journal."
We at Stimulant personally believe you can never have too much profanity in your cubicle, so we're thrilled. No, scratch that. We're fucking thrilled.
You can order one of the journals (or all of them, why not?) on Amazon.