Know thy neighbour
Tim Horton's employees make new friends in an intimate campaign by Zulu Alpha Kilo.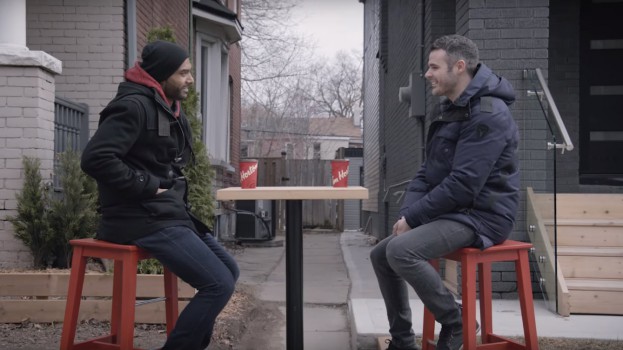 How well do you know your neighbour? Do you know what they do for a living? Where they grew up? Do you know the name of their dog you see trotting by every morning?
If you're coming up a little short on a few of those answers, that's okay. But since Tim's is, of course, known as a "neighbourhood" coffee shop, its latest campaign focuses on neighbours.
The spot, conceived by Zulu Alpha Kilo, depicts Tim's employees heading out to various communities – whether full of detached homes, apartments or teeny townhouses – and bringing a coffee for neighbours to share while they bond. Some discover unexpected things they would have learned about each other a long time ago if they'd just taken the time to ask.
Whether or not you're a coffee drinker, it's a good reminder that next time you see your neighbour, you should consider going beyond that half-smiling, averted-eye nod. Ask them about their day, invite them in to put their feet up…. maybe ask them what that cute little dog's name is.
Client: Tim Hortons
Agency: Zulu Alpha Kilo
Chief creative officer: Zak Mroueh
Creative directors: Gerald Kugler, Rodger Eyre
Art directors: Michael Romaniuk, Monique Kelley
Writers: Patrick Godin, Siobhan Dempsey
Agency producer: Cherie O'Connor
Account director: Mike Johnson
Strategic planners: Tim Hopkins, Sean Bell
Clients: Axel Schwan, Christy Clem, Julie Granger, Lizzie Nawn, Marlena Peleo-Lazar, Mackenzie Biddie
Media agency: UM
PR agency: Citizen Relations
PR team: Angie Lamanna, Sean Citrigno, Alyssa Katzikowski, Ciara O'Riordan, Summer Martin, Zach Lieberman
Production house/Post-production/Editing: Zulubot
Director of content: Cary Smith
Director: Sean McBride
Production house producer: Adam McCloy
DoP: Duraid Munajim
Casting director: Ground Glass Media
Editors: Jay Baker, Max Lawlor, Marissa Bergougnou
Colourist/Transfer: The Vanity
Audio post facility/Music house: Zulubot Audio
Engineer: Stephen Stepanic