Some issues are black and white
F.biz's campaign for the Maria de Penha Institute shows that when women speak up, a ripple effect begins.
When women speak out, change comes swiftly. Powerful institutions can crumble. People with privilege suddenly find themselves unprotected.
The new campaign by the Maria de Penha Institute (IMP) in Brazil is calling it what it is: a wipe-out.
The IMP's "W.O.Man" campaign uses black and white photography of infamous men who have been accused or convicted of sexual harassment including former U.S. Women's Gymnastics team physician Larry Nassar, disgraced fashion photographer Terry Richardson and, of course, Hollywood producer Harvey Weinstein.
The portraits tell the story of how the men used to be known and how their careers have been all but wiped out following allegations and convictions. They are adorned with the tag line "W.O.Man" to show that women have the power to create that wipe-out.
The digital and print campaign, created by F.biz, is part of a movement by the Institute to create a "ripple effect" by showing the consequences of malicious actions. "Information saves lives and helps people out of the dark," said Conceição de Maria, project coordinator at the IMP. "The more campaigns we do and the more we talk about the subject, the more claims we'll have."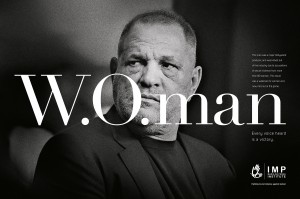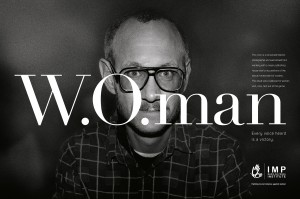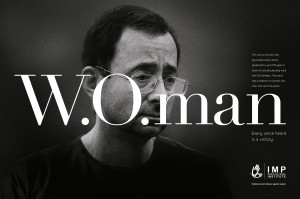 Credits:           
Client: Maria da Penha Institute
CCO: Guilherme Jahara
Creative executive director: Fabio Astolpho
Content director: Renata Longhi
Creative and content: André Batista, Armando Araújo, Carol Rocha, Pedro Maneschy, Pierre Francisco , Sérgio Klemtz
Photography: Stephen Lovekin – Variety/REX/Shutterstock; Brendan McDermid – Reuters/Latinstock; Steve Eichner – Penske Media/REX/Shutterstock
RTVC: Iara Demartini, Fernanda Moura
Audio production: Antfood
Art buyer: Izabel Abreu
Graphic production: Jorge Gaglione
Final art: Elton Santos, Ricardo Martinelli
Retouching: Marcio Lima
Reviewer: Eliane Arakaki, Renata Garcia, Ana Zolin
Motion: Wesley Martins
CSO: Renata d'Ávila
Planning:Caroline Ferraz
Media: Luciana Prado, Patrícia Azevedo, Tiago Gomes
CBO: Juliana Nascimento
Marketing and PR: Mônica Gelbecke, Janaina Langsdorff
Approvee by: Maria da Penha, Conceição de Maria, Claudia Fernanda