There's something hiding in these ads
A new ad format by the Societe de transport de Montreal is also a fold-out pop-up shop.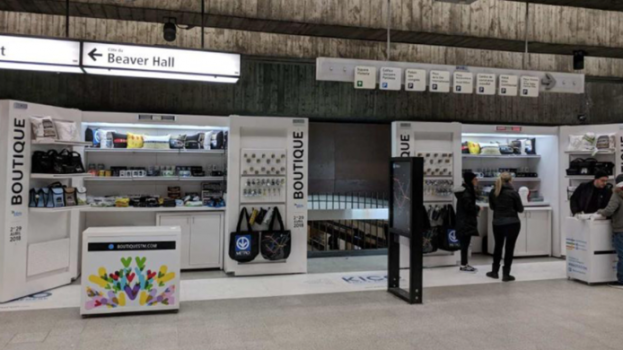 Many brands would say that their latest campaign is no ordinary one – that there's something special about that TV spot, something innovative in that digital ad, something different behind that billboard.
In Société de transport de Montreal's case, its new OOH boards in the Victoria Square metro station actually do have something different behind them. The display boards, which contain traditional advertisements on the outside, unfold during hours of operation to unveil a pop-up shop inside.
The displays are dubbed the "Kico pop-up" units and are the creation of media company Métrocom.
Métrocom's new ad format will equip advertisers with an ad unit that opens up to a pop-up shop, containing shelves, hooks and stations to set up a pay terminal. So far, the first two displays are pop-up boutiques for the STM itself, featuring totes, tees and tea tumblers, as well as throw pillows, lunch bags and other STM memorabilia.
Métrocom  is planning on rolling out additional Kico booths, and will announce future stations soon.