Hamster goes bright purple
Office supply distributor Novexco introduces the brand to consumers with three colourful spots.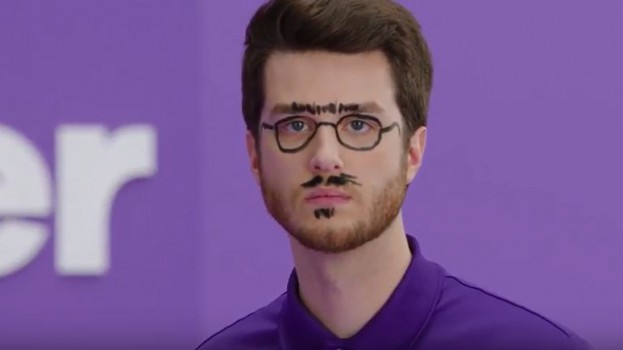 Novexco has introduced Hamster to the world.
The Canadian-owned distributor of office supplies and services has brought its banners under the Hamster brand identity, one that aims to stand out with "bright colours, a flexible corporate culture and a counter-current creative flair for anticipating the trend," according to a Novexco press release.
Tam-Tam\TBWA led creative on the spots, which feature a Hamster employee in bright purple garb. In one 15-second video, he describes the "indispensable" nature of Scotch Tape, perfect for everyday uses – including taping up "the petit Robert," a man whose name is also a nod to a French-language dictionary. In another, he discovers the long-lasting nature of Sharpies after having hand-drawn himself a moustache and glasses.
The brand repositioning is intended to help Novexco compete in a market increasingly dominated by American retail giants like Staples and Amazon, according to the company. While Novexco is the country's third largest office supplier, the brand is not well known by Canadians.
The campaign launched April 8 and is running across TV, digital and print.
Credits
Client: Novexco - Stéphane Bourassa
Director of strategic planning: Guillaume Mathieu
Account director: Mélanie Beaudoin
Advisor: Stéphanie Boivin
Creative director: Manuel Ferrarini
Graphic design: Gabrielle Turcotte
Copy writer: Christian O'Brien
Artistic director: Claude Ringuette, Anne-Marie Lemay, Jean-François Thériault
Digital production: Mélanie Duguay
Print production: Michelle Turbide, Marie-Hélène Cimon
Media planning: Yvon Gosselin
Media: Isabelle Pelletier
Production house: Gorditos
Director: Louis-Philippe Eno
Producer: Nancy Thibodeau
Music and sound studio: Apollo
Post-production: MELS