This is not the worst song in the world, this is just a tribute
Rosapark went a pretty long way to drive home a point about grocery delivery. And you know what? We love it.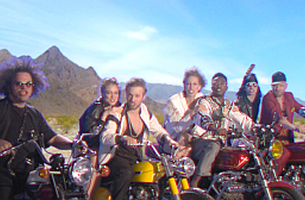 We've all been there. We've got our headphones on, our hands filled with groceries, your bag, your after-workout smoothie… and then a song comes on that you absolutely hate.
Maybe it's a song you associate with a bad memory. Maybe it's a singer with an annoying voice. Maybe it's this song. We've all got our reasons for hating a song. But what happens when you can't escape it?
That's the idea behind this short film for French retailer Monoprix by agency Rosapark. A woman going about her day is suddenly stuck between a rock (and/or roll) and a hard place when her least favourite song comes on and she's in no position to take off her headphones, since she's carrying her groceries. The song is excruciating, dissonant, and if we're being honest here, really long. Like really long. Cards on the table: at a certain point, we skipped to the end of the video.
But this poor woman couldn't. And that was the true tragedy.
It's a pretty roundabout way to tell someone that they should get a grocery delivery service (because free hands means you can change the song, or at least violently whip your head phones off!) but you know what? Any agency that will actually write a full song – especially one like this – gets our kudos.
Credits
Client: Monoprix
Brand management: Florence Chaffiotte, Nicolas Gobert, Stéphanie Jallet, Angeline Froger
Agency: Rosapark
Co-founders: Jean-Patrick Chiquiar, Gilles Fichteberg and Jean-François Sacco
Strategic planning manager: Sacha Lacroix
Account management: Fanny Desvignes, Quentin Barbaray, Charlotte Giraud
Strategic planning: Alexandre Ribichesu, Sarah Herbain
Creative directors: Gilles Fichteberg and Jean-François Sacco
Art director: Nazgol Athari-Nejad
Copywriter: Hélène Boudin
TV producer: Thomas Laurent
Associate director: Quentin Labat
Client director: Lucile Wissocq
Strategic planner: Sarah Herbain
Head of digital strategies: Jeanne Neuschwander
PR: Mélanie Colléou
Production: Stink
Director: Traktor
DOP: Nico Poulsson
Producer: Marine Garnier
Production Direction: Guillaume Richard
Image post-production: Firm
Post-producer: Toby Ridgway
Editing: Yann Malcor
Sound post-production: Schmooze
Musical composition: Simon Davis