DAZN flaunts the greats
The streamer (best known for football) wants to get the word out about its soccer offering.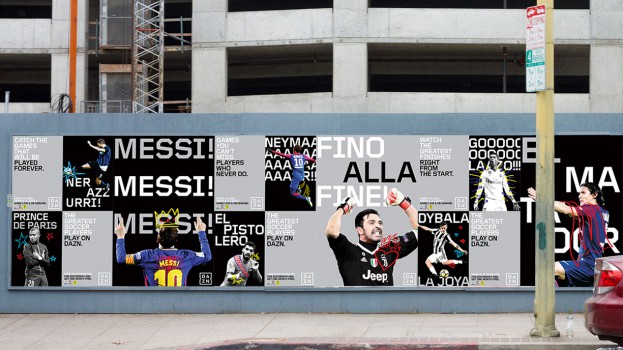 Canadian sports streamer DAZN's new campaign is all about greatness.
The new "Rise to Greatness" campaign, which touched down earlier this week, is inundating Canadians with loud and proud messaging that's all about soccer. Pairing with Sid Lee, DAZN's digital, video and OOH activations deliver an epic, action-packed feel with a bit of fun and animation, adding in hand-drawn symbols and art.
Familiar soccer calls and chants (including "Messi! Messi! Messi!" and, of course, "Gooooaaaallllll!") decorate the outdoor ads.
While DAZN is known mainly as a football streamer (it's the only single channel in Canada that holds the exclusive rights to every broadcast football game), other sports are included in its offering, such as the European soccer and Commonwealth Games. This campaign is timed to get the message out about its soccer offering, and to do it loudly.
Credits
Client: DAZN
Agency: Sid Lee
PR: Hill+Knowlton
Media buying: Essence