Chill out, Coachella, Peet's got your cold brew
The American coffee company took to the California desert to promote its cold brew coffee to thirsty festival-goers.
California's coolest music festival got even cooler this week when American craft coffee company Peet's promoted its True Cold Brew at Coachella this week.
Party-goers could take a break from the tunes and get their caffeine fix from Peet's "Better Energy" branded bus activation on festival grounds or — in true Coachella fashion — from a Peet's keg trike being peddled around to offer up samples of their signature Baridi Black Cold Brew.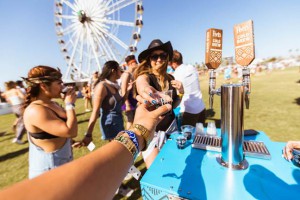 Those who nixed the tent and wanted to experience the event in (even more) style could chill at the DayClub Palm Springs at Peet's interactive ice sauna photobooth.
After all, what better place to market cold brew than at a music festival in the middle of the desert?