Corona steps outside for Earth Day
On April 22, those looking for the beer won't find it on store shelves.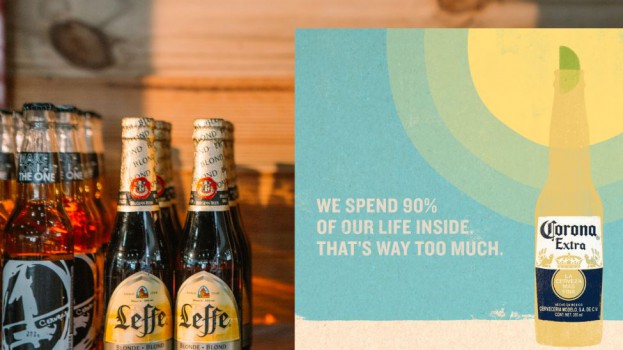 In recent years, Corona has put considerable effort into embedding an image in the minds of consumers: that of the bottle, topped with a lime wedge, carefully placed on a table along a sandy beach in what could only be described as paradise. In other words, it positioned itself as a beer brand for the outdoors, one synonymous with beaches and lawn chairs and suns setting.
So it only seems fitting that for Earth Day on April 22, the company is encouraging consumers to step outside by removing its products from store shelves and selling them exclusively outdoors in Brazil, Guatemala, Puerto Rico, Colombia and the Dominican Republic.
Corona worked with Wieden+Kennedy Amsterdam on the campaign, serving as a reminder for people – who spend 90% of their time indoors, according to the brand – to step outside their daily routines and maybe extend that other 10%.
Credits
Brand: Corona
Agency: Wieden+Kennedy Amsterdam
Executive creative director: Mark Bernath & Eric Quennoy
Creative director: Alvaro Sotomayor
Art director: Zeynep Orbay
Copywriter: Macie Soler-Sala
Planning director: Nick Docherty
Senior planner: Maria Correa
Communications planner: Hillary Heath
Digital strategist: Freddie Young, Anna Chan
Group account director: Courtney Trull
Account director: Franky Wardell
Account manager: Marie Lee
Art buyer: Maud Klarenbeek
Studio artist: Thomas Payne
Studio manager: Lizzie Murray
Project manager: Gabi Moreira
Business affairs: Michael Graves