This may be the longest URL in history
Hotels.com extends its URL-name to include a full range of destinations and accommodations.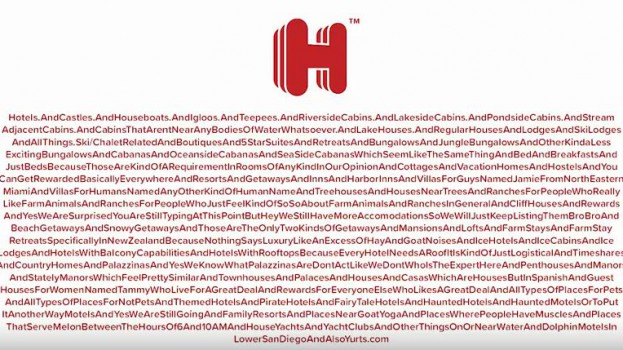 Grab a seat by the fire and settle in, this will take a while. Hotel bookings website Hotels.com has registered one the longest URLs in history, and the brand's Captain Obvious is here to read it out to you, bit by bit.
The company wanted to show potential travellers just how many different kinds of accommodations and destinations are available through the site. So working with Crispin Porter + Bogusky, the Colorado-based agency that helped conceive the Captain Obvious mascot in 2014, it extended its URL-name.
Now, travellers can quickly and easily identify the site as offering "castles," "igloos" and "riverside cabins" among its many lodgings, and "places near goat yoga" and "place where people have muscles" among its destinations. And it only takes a URL of 2,083 characters to do so.
The stunt only goes so far, however. Clicks on the full link redirect to the original Hotels.com.
Credits
Client: Hotels.com
Agency: Crispin Porter + Bogusky