Smashing the stigma with every bite
Bensimon Byrne tells the incredible story of one of Toronto's most unique restaurants.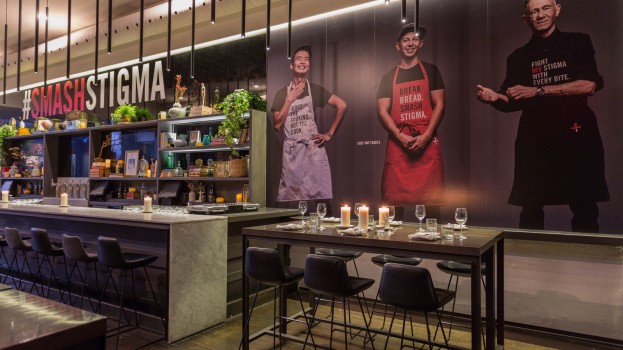 What defines you? What do you want the world to know about you? And what is the best way for you to share yourself with the world?
For many of us, food – discovering it, sharing it, cooking it – is how we share a little bit of ourselves, how we loosen up and socialize.
For a group of chefs in Toronto, food also became a way to break stereotypes. Late last year, HIV/AIDS care and advocacy centre Casey House created a pop-up restaurant, June's, which featured haute cuisine made by those with HIV.

The goal of the restaurant was to break down stereotypes (some people admitted in surveys that they would not feel comfortable eating food made by a person with HIV, despite there being no inherent risk). The restaurant ran for three days in November, serving high-end food alongside meaningful conversation.
Now, Bensimon Byrne (the agency behind the pop-up) has created a short doc about the experience, speaking to several of the chefs involved with June's about the emotion that went into the experience and the meaning that came out of it.
The two-minute film intercuts personal stories from people living with HIV – many of whom were made to feel limited in life after their diagnosis – with the same people now working in the restaurant biz, living life to the fullest and pursuing passions.
Credits:
Client: Casey House
Agency: Bensimon Byrne
ECD: Joseph Bonnici
Creative directors: Gints Bruveris, Meredith Klapowich, David Mueller, Laura Serra
Executive producer: Michelle Pilling
Project manager: Ashley Belfast
Production coordinator: Daniel Rankin
Camera: Julian Peter
Second unit camera: Lulu Wei
Second unit producer: Caroline Clarke, Katie Link
Strategist: Aurora Stewart de Pena
Director: Hubert Davis
Production company: United Films
DoP: Jesse Louttit, Chris Romeike
Executive producers: Tom Evelyn, Jason Friedman
Assistant camera: Alex Bros, Alex Dametto, Raj Nandy
Sound: Sanjay Mehta, Dave Dunlap, Mike Filippov
Production assistant: Michael Mandarano
Editor: Michelle Czukar
Editorial company: Rooster Post
Executive producer, offline: Melissa Kahn
Assistant editor: Mikaela Bodin
Post-production intern: Sarah Carlisle
Online/visual effects: Fort York VFX
Flame artist: James Marin
Executive producer, online: Sam Mclaren
Producer, online: Armen Bunag
Post production: Alter Ego Post
Colour artist: Eric Whipp
Producer, colour: Jane Garrah
Colour assistant: Mariya Guzova
Music/sound design: Berkeley
Audio director: Jared Kuemper
Engineers/editors: Jack Emblem, Tyler Young
Music: Sizzer/Amsterdam
Music producer: Kenma Shindo
Music supervisor: Niall Rogers