Who stood out in this year's Carte Blanche contest?
The clever OOH ideas that earned some creative teams a free trip to Cannes.
Astral has announced the first round of winners from this year's Carte Blanche For Creatives competition.
The annual contest ? now in its ninth year ? doesn't give entrants a brief, and simply asks them to come up with the most creative idea possible for one of their agency's clients that could run on Astral's network of OOH boards. For the first time this year, winners were chosen by a national jury of creatives.
First place winners receive a free trip to this year's Cannes Lions Festival of Creativity, while their clients get $50,000 worth of free media space on Astral's network. Second and third prize winners receive a new MacBook Pro and iPad, respectively. Astral announced the winners from the Toronto and Western Canada markets on Thursday, with the winners from the Quebec market being announced on May 25 as part of the C2 Montreal conference.
Astral said in a press release that this year's contest drew a record 325 submissions, a 20% increase from last year.
Below, you can find the work that won at this year's competition, including the "Trucker's Choice" awards, chosen by a panel of long-haul truck drivers who – as the ad campaign for this year's competition explained – know billboards better than anyone.
Toronto
First Prize: "City Colours"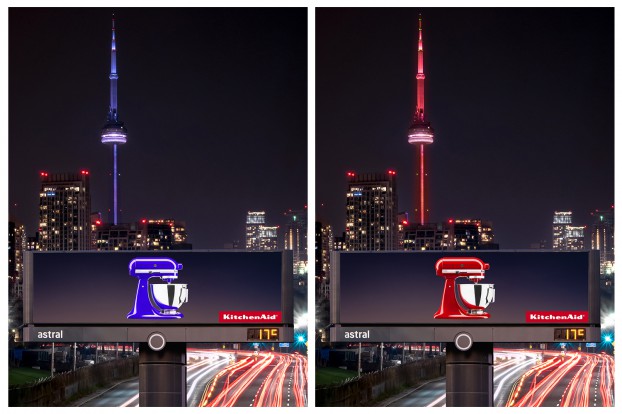 Agency: Zulu Alpha Kilo
Client: KitchenAid
Copywriter: Patrick Godin
Art Director: Michael Romaniuk
To show off all the different colours of KitchenAid's flagship stand mixer, the colour on this billboard would change to match the ever-changing lights of Toronto's CN Tower.
Second Prize: "Train Triggered Advertising"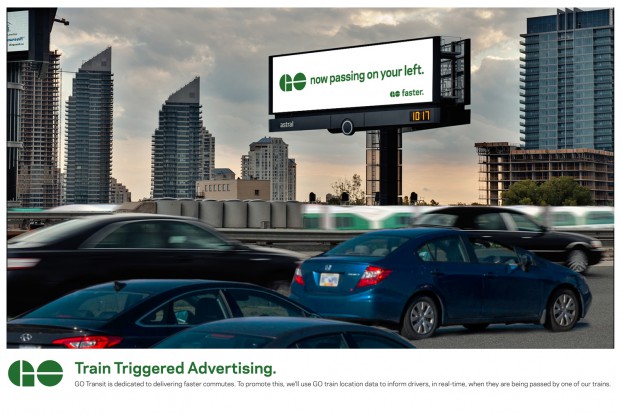 Agency: Publicis
Client: GO Transit
Copywriter: Tyler Schell
Art Director: Christian Martinez
Using GO Transit's location data, the billboard will tell commuters on the Gardiner Expressway when one of its trains is passing by on its regular route ? an especially effective way of showing how fast the train is to someone who is sitting stuck in traffic.
Third Prize: "Too Hot For Spot"
Agency: BBDO Canada
Client: Pedigree
Copywriter: Sherry Dubeau
Art Director: Samantha Angus
To get people to clue into the fact that they shouldn't leave pets alone in a vehicle, the billboard uses weather data to show the current temperature outside, as well as the (much higher) temperature inside a parked car.
Trucker's Choice: "Gridlock"
Agency: Agency 59
Client: SXM Satellite Radio
Art Director : Brian Santangelo
Creative Director : Curtis Wolowich
Chief Creative Director: Brian Howlett
A series of different messages ? such as "Waze can't help you," "Free parking next 5 km" and "Construction ahead, next 12 months" ? aim to inform drivers that gridlock traffic is unavoidable, so they might as well tune it out with SiriusXM Radio.
Western Canada
First Prize: "Celebrating the Solstice"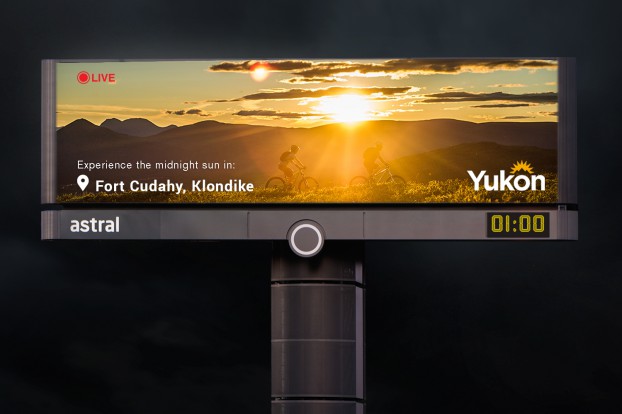 Agency: Cossette
Client: Yukon Tourism
Copywriter: Mark Wilson
Art Director: Kelsey Hugues
During the summer months, the Yukon experiences sunlight almost all day, including at midnight when it's close to the summer solstice. A live video feed of this phenomenon would be shown on billboards in Western Canada, where it would stand out especially well against the dark night sky.
Second Prize: "Today's Possibilities"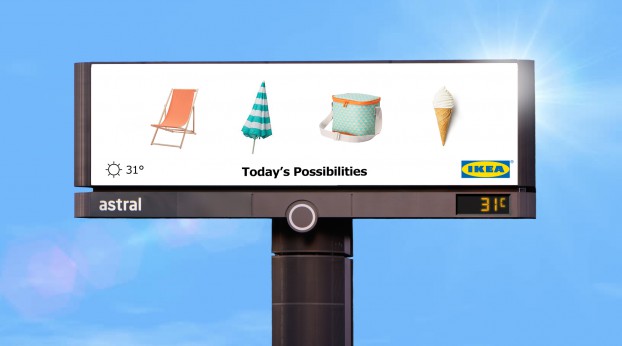 Agency: Rethink
Client: IKEA
Copywriter: Jake Gauthier
Art Director: Greg Kieltyka
An assortment of different IKEA products would be shown in response to the day's weather ? beach and grilling supplies for a sunny day, rain jackets and umbrellas for rain and blankets and couches for when it gets a bit chilly.
Third Prize: "Shades of Summer"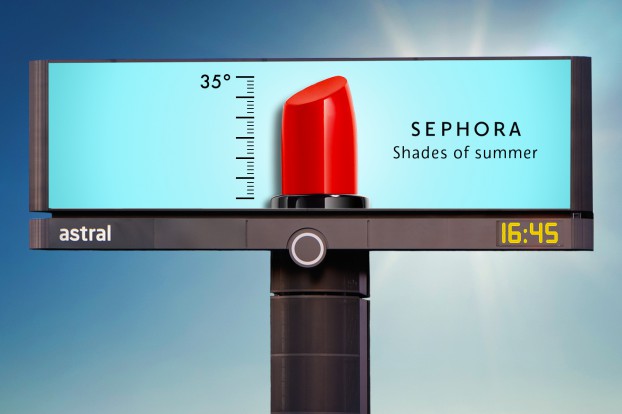 Agency: Cossette
Client: Sephora
Copywriter: Mark Wilson
Art Director: Kelsey Hugues
To help customers decide between Sephora's massive selection of products, different shades of lipstick are matched to different temperatures, giving them a forecast and makeup inspiration at the same time.
Trucker's Choice: "Irresistible"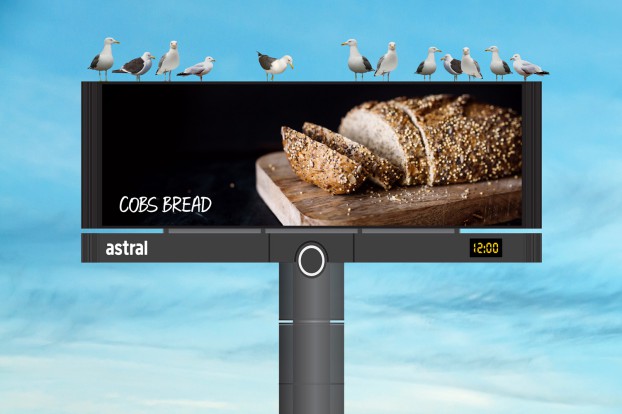 Agency: Will Creative
Client: Cobs Bread
Art Director: Rory O'Sullivan
This entry shows just how "irresistible" Cobs Bread is by simply showing a photo of a fresh loaf ? and perching a group of hungry seagulls overtop the billboard.