Carte Blanche announces Quebec winners
Three teams earned free trips to Cannes with these creative out-of-home ideas.
The full picture of this year's best Carte Blanche entries has been revealed, following Astral's announcement of the winners from the Quebec market.
The annual contest, now in its ninth year, doesn't give entrants a brief, and simply asks them to come up with the most creative idea possible for one of their agency's clients that could run on Astral's network of OOH boards. For the first time this year, winners were chosen by a national jury of creatives.
Astral announced the winners from the Quebec market on May 25 as part of the C2 Montreal conference. The Toronto and Western Canada markets were announced earlier this month.
First place winners receive a free trip to this year's Cannes Lions Festival of Creativity, while their clients get $50,000 worth of free media space on Astral's network. Second and third prize winners receive a new MacBook Pro and iPad, respectively.
Below, you can find the Quebec work that won at this year's competition, including the "Trucker's Choice" awards, chosen by a panel of long-haul truck drivers who – as the ad campaign for this year's competition explained – know billboards better than anyone.
First Prize: "Pointage"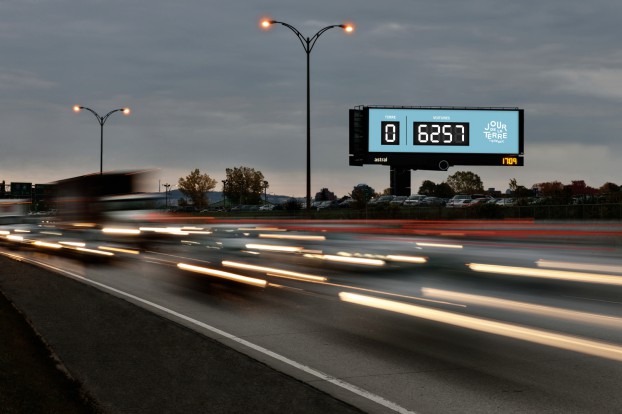 Agency: Lg2
Client: Jour de la Terre (Earth Day)
Copywriter: Valérie Wells
Art Director: Léa-Laure Bergeron
On Earth Day, this board counts the number of cars that pass by on a busy highway, creating something of a "scoreboard" with the earth and its fight against pollution.
Second Prize: "Du beau temps"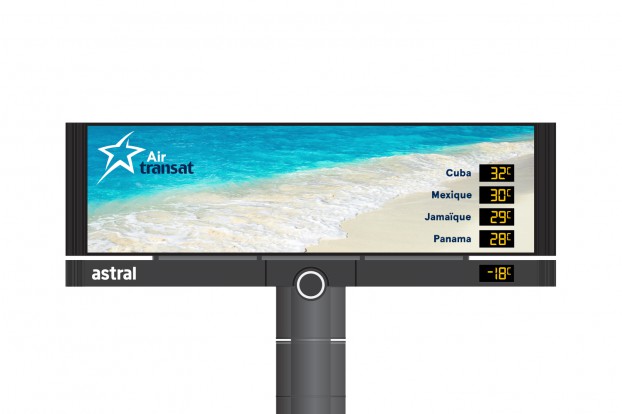 Agency: Sid Lee
Client: Air Transat
Copwriter: Andrew Lord
Art director: Étienne Goulet
Many of Astral's digital boards show the current temperature, but this one also shows the temperature of four locations Air Transat offers trips to, making a getaway from winter weather that much more enticing.
Third Prize: "Chantier"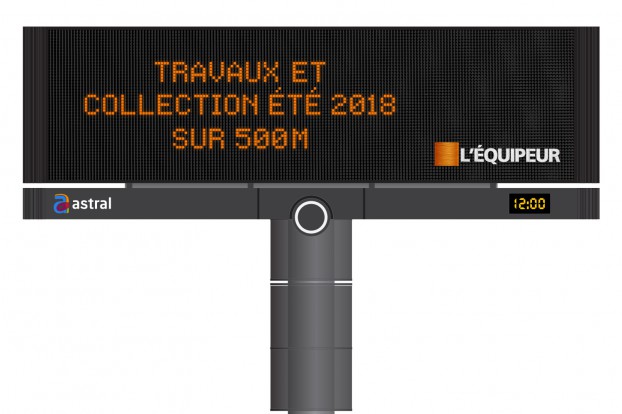 Agency: Cartier
Client: L'Équipeur
Copywriter: Laurent Francoeur-Larouche
Art director: Colin Beaudin
This board syncs with traffic data, telling drivers that they can experience heavy congestion or a new summer collection of clothes at a L?Équipeur store on the stretch of road ahead of them.
Trucker's Choice: "Constellations"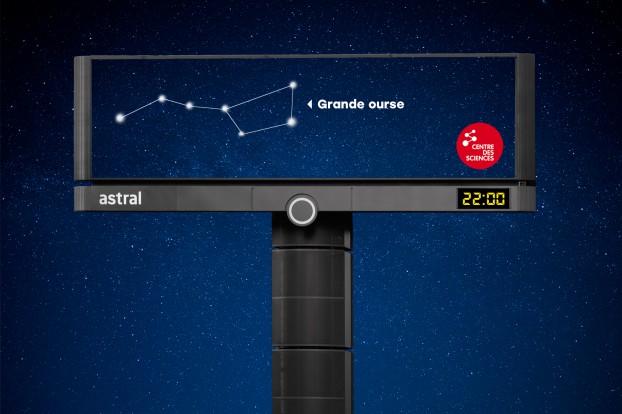 Agency: Alfred
Client: Montréal Science Centre
Copywriters: Martin Charron & Michaël Grenier
Art director: Nicolas Rivard
To get people interested in science and astronomy, this digital board displays the name and drawing of a constellation that can currently be seen behind it in the night's sky.