Get real: Design conference highlights truth seeking
The campaign was created by Zulu Alpha Kilo for DesignThinkers, which is in Vancouver this week and Toronto in October.
 The Association of Registered Graphic Designers (RGD) launched its 2018 DesignThinkers Conference campaign this week, featuring a new theme: "Speak the Truth."
Spearheaded by Zulu Alpha Kilo, the campaign urges the industry to get real, aiming to highlight some of the more humorous truths of the design industry.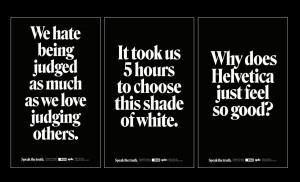 The campaign includes posters, animated digital boards, photo backdrops, and a black and white video, "The Lie Detector," in which five Canadian designers hooked up to a polygraph machine answer questions such as, "Is your wardrobe primarily black?" and "Have you ever ignored client's feedback?"
The agency also created a website and merchandise embellished with cheeky phrases such as, "Lanyard is just a funny name for business necklace," and "The beautifully designed t-shirt you'll never wear again." The truth hurts.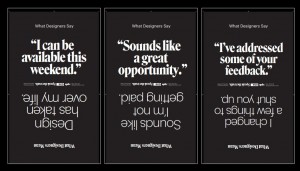 The two-day conference, which features industry discussions about branding, trends, communications technologies, design management and user experience, takes place May 29 and 30 at the Vancouver Playhouse and at the Sony Centre and St. Lawrence Centre for the Arts in Toronto on Oct. 24 and 25.