All the colours of the city
It's no surprise that Bleublancrouge is helping Sico show off its true colours.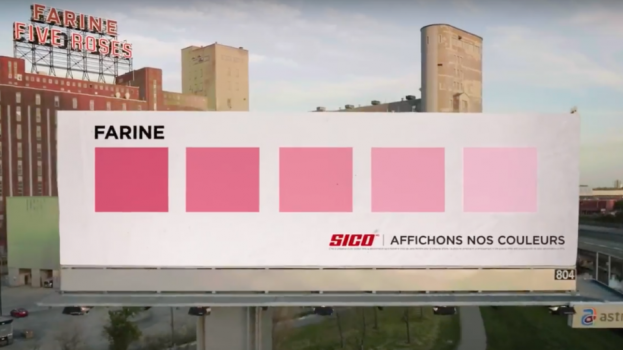 We all remember learning about complementary colours and using wheels to figure out which colours pair up best. Back then it was so simple (and a little rigid). We learned that colours were meant to be paired with the colour on the exact opposite end of the wheel. Yellow and purple, red and green, blue and orange.
Well, we're grown-ups now. And we know that we live in a world filled with unique hues and shades from subtle to vibrant. And they all go together.
Sico's latest campaign, entitled "Affichons nos couleurs" ("Show Off Our Colours"), pulls out all the unique colours across Quebec. Sico put more than 150 out-of-home ads across the entire province, each one showing a unique shade of Sico paint to portray some of the subtle colours hidden among the scenery. From books in stores to cruise ships on the St. Lawrence River and even animals in the woods, Sico's ads were designed to give Quebecers an even fonder appreciation for the world around them.
The campaign was from the creative minds at BBR, although collaboration with media agency PHD was also essential to the context of the buy.
Check out Sico's colourful journey through the province:
Credits
Client: Sico
Creative agency: Bleublancrouge
Digital content: Substance
Media buying: PHD