A pizza in bed kind of day
Boston Pizza knows we have days where we like to put on sweats and eat without getting grease and crumbs on the sheets.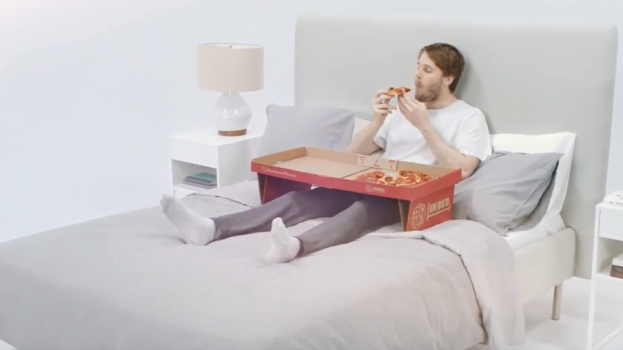 We've all been there: we got stuck in a traffic jam, our boss was mean, our frenemy has posted endless photos of her hashtag amazing fiancé on Instagram. These are the kinds of days that call for getting home, putting on some sweats and eating a few slices of pizza (or maybe the whole pie depending on how bad your day was) in the comfort of your own bed. The only problem with this dream plan is the nightmare of waking up to grease and crumbs on your sheets and blankets. Do you want ants? Because that's how you get ants.
Enter Boston Pizza. The pizza chain teamed up with John St. to design a pizza box that turns into the perfect tray for eating some 'za in bed before catching some zzz's.
The 41-second video promoting this "breakthrough we've been waiting for" takes a tongue-firmly-placed-in-cheek tone. Dramatic music plays over close-up images of a pizza box while white text with sentences like: "It will define a generation." flash on the screen. The video then cuts to an average Joe donning a dingy tee and sweatpants happily eating pizza off a Boston Pizza cardboard tray in bed. The spot ends with a dramatic last image of the pizza tray and the words: "BP in bed."
Now there's an idea you can take to the duvet.
Credits:
Advertising agency: John St., Canada
Chief creative officer: Angus Tucker
Creative director: Paul Little
Copywriter: Kohl Forsberg
Art director: Dorota Pankowska
Executive design director: Mooren Bofill
Retail designer: Michael Arnott
Executive director: Cas Binnington
Head of integrated production: Aimee DeParolis
Producer: Neal Owusu
Team lead: Ryan O'Hagan
Account director: Caitlin Bourada
Account supervisor: Emily Farncomb
Director: Paul Steinberg
Line producer: Maddy O'Shaughnessy
Production company: 172 (in partnership with Heyd & Seek)
Editor: Scott Edwards
Online: Tendril
Audio house: Audio Process