KFC Canada pitches a finger lickin' good costume
The chicken chain teamed up with Grip Limited to pitch this chicken-skin costume for Fortnite players.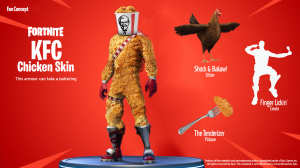 Truth time: The crisp, golden-brown skin on KFC's iconic chicken is the best part.
Players of the video game, Fortnite, love skins (a.k.a. custom outfits for in-game avatars) and many clearly also love KFC's skin.
So, KFC Canada teamed up with the mad geniuses over at Toronto's Grip Limited to pitch a Chicken Skin costume for gamers who want to show other gamers how much they love KFC.
An ad showing an avatar wearing an outfit made of KFC skin and a red-and-white KFC bucket as a head was posted to Facebook, Twitter and Reddit last week. The skin has not been made yet, but Grip is hoping the "finger lickin' good creation" will become (virtual) reality.
Reaction to the costume on Facebook and Twitter by gamers has been fast and furious. The Facebook post has almost 15,000 comments and counting.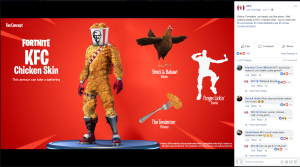 While the Twitter post has more than 4,500 likes and climbing. Many Americans chimed in with comments like @Jaay_3Tears, who wrote: "I'm not even from Canada but i might move there because of this."