If you can't beat 'em, wear 'em
Toronto BBQ joint Adamson Barbecue is making bad reviews into good T-shirts.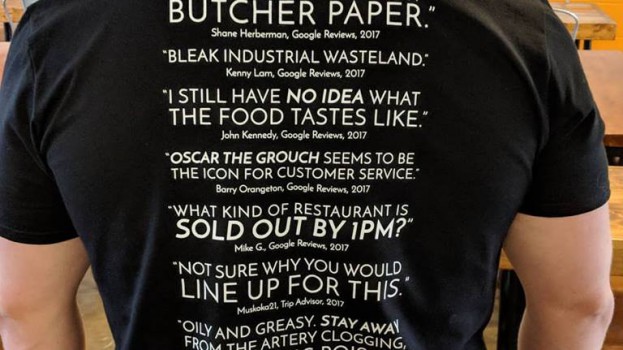 It's tough – if not impossible – to please every critic. Even beloved haunts like Toronto's Scaramouche and Alo Restaurant have had their share of scathing reviews.
Some choose to ignore the one-star reviews. Others go on the offensive against them, with mixed results (see: the alleged "Streisand Effect"). And some see a fashion opportunity.
Toronto's Adamson Barbecue has taken a hit back at its harshest critics by turning them into graphics on a T-shirt. Styled like review highlights on a movie poster, the shirts feature scathing reviews such as "Oily and greasy. STAY AWAY," and "Not sure why anyone would line up for this."
Apparently, people were lining up for the shirts (which were designed by Toronto-based Daikon Club). Many on social media say the shirts have just attracted them more to Adamson Barbecue.
So, Stim readers, we encourage you to be as honest as you like with your comments and reviews. We need some fashion inspiration.